Announcing the Fall 2016 Magnet Sketch Teams
Congrats, Sketch Tuesday August 23, 2016, 10:49am - by Magnet Theater
---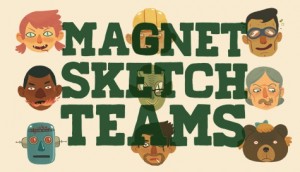 Congratulations to the newest Magnet Sketch Teams and the newest additions to The Executives, Dinosaur Jones, Student Council, and Stockton! Thanks to everyone who submitted and auditioned this round.
Here are your new teams:
*new to Magnet Sketch Teams!
THING #1 directed by Matt Alspaugh
Karina Sahlin* - Writer
Skyler Swezy* - Writer
Dmitry Shein - Writer
Nick Wiener* - Writer
Alyssa Lott* - Actor
Kourtni Beebe* - Actor
Chloe Lewis* - Actor
Keith Rubin* - Actor
Patrick Grizzard* - Writer/Actor
Kyle Levenick - Writer/Actor
THING #2 directed by Ari Miller
Everett Cox* - Writer
Corinne Brinkley* - Writer
Kristen Loe* - Writer
Gina Cucci* - Actor
Alexis Field* - Actor
Dana Moore* - Actor
Rob Webber - Writer/Actor
Joe Lepore - Writer/Actor
Michael McLarnon - Writer/Actor
New members of The Executives, Student Council, Dinosaur Jones and Stockton in bold:
THE EXECUTIVES directed by Kevin Cobbs
Megan Meadows – Writer/Actor
Ari Miller – Writer/Actor
Evan Forde Barden – Writer/Actor
Charlie Nicholson – Actor
Lane Kwederis - Actor
Meredith Burns* – Actor
Bryan Berlin – Writer
Christina Cola – Writer
Liz Haag – Writer
STUDENT COUNCIL directed by Elena Skopetos
Christopher Hastings – Writer/Actor
Adam Twitchell – Writer/Actor
Jimmy O'Connell – Actor
Devin O'Neill – Actor
Catherine Montesi – Actor
Noel Salter – Actor
Joe DiBella – Writer
Molly Kiernan – Writer
Jordan Randolph – Writer
Trumane Alston – Writer
DINOSAUR JONES directed by Joe Lepore
Matt Alspaugh – Writer/Actor
Becca Schall – Writer/Actor
Ben Koch – Writer/Actor
Rich Rosario – Actor
Carly Monardo – Actor
Jessica Taylor – Actor
Natalie Silverman – Writer
Hayley Karl – Writer
Elie Stav* - Writer
STOCKTON directed by Jesse Acini
Eli Itzkowitz - Writer/Actor
Diego Martinez - Writer/Actor
Andrew Vuilleumier - Writer/Actor
Sarah Cassell* - Writer/Actor
Brendan Goggins* - Actor
Emma Rogers* - Actor
Matt Wassung - Writer
Andy Mills - Writer
Sara Kalkstein* - Writer
Teams premiere on Monday, September 12th, 7:30pm. See you there!