You're Invited to Apt. 33's House Party
Shows Tuesday August 18, 2015, 7:39pm - by Magnet Theater
---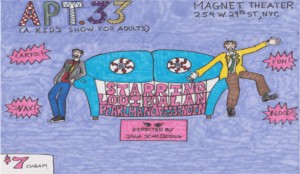 This month's APT. 33 House Party is a fully interactive comedy/balls-to-the wall party hybrid that starts at 6pm on Sunday, August 30th and goes until 8:30pm—and it's so chill you can stop by and check it out at any point during that time frame. You'll get all caught up on Season 1 and ready for the Season 2 premiere in September (Sept. 14th).
Stay the whole time for the complete experience, or just drop in to say "hi" to your favorite proverbial man-children and their pals for as long as you can—this is the best non-Kid 'N Play-related house party of, like, all time and it comes straight from the demented yet sweet minds of Alan Fessenden (Hello Laser, Pumpkin) and Louie Pearlman (Cast Party, Story Pirates).
What's it all about? Well…
When Magnet Theater politely tries to celebrate the culmination of season 1 of Alan and Louie's show APT. 33, the fancy and urbane get-together quickly goes off the rails as it's invaded by other, more evil elements of Magnet Theater's rich comedy scene. The result is rock and roll, anarchy, and an excuse for great people to all hang out and dance to good music.
Will Alan and Louie be able to gain control of the party that is being thrown in their honor? Or will the entire Magnet Theater and comedy community be thrown into chaos forever? Oh no!
Fans of Sleep No More, Pee-Wee's Playhouse and Fox TV's Empire sure would experience FOMO if they didn't come to the show. No FOMO!
So what's the whole deal again? The show's on Sunday, Aug. 30th from 6-8:30pm. You can come at any point—so be sure to stop by whenever! Reserve tix here!
P.S. The show features members of other awesome Magnet shows/ensembles like: Jana and Lauren Presents, Kornfeld and Andrews and Psycho.
Full Cast:
Rick Andrews
Jon Bander
Hannah Chase
Kevin Cobbs
Christina Dabney
Alan Fessenden
Shacottha Fields
Kristina Grosspietsch
Louis Kornfeld
Jo Kroger
Lane Kwederis
Joe Miles
Lauren Olson
Louie Pearlman
Tim Platt
Jason Scott Quinn
Jana Schmieding