Catching up with Steph Garcia in LA
Interview, Television Monday July 13, 2015, 10:49am - by Magnet Theater
---
STEPH GARCIA – ON MOVING TO LA, WRITING COMEDY & BEING AN ASSISTANT ON A TV SHOW!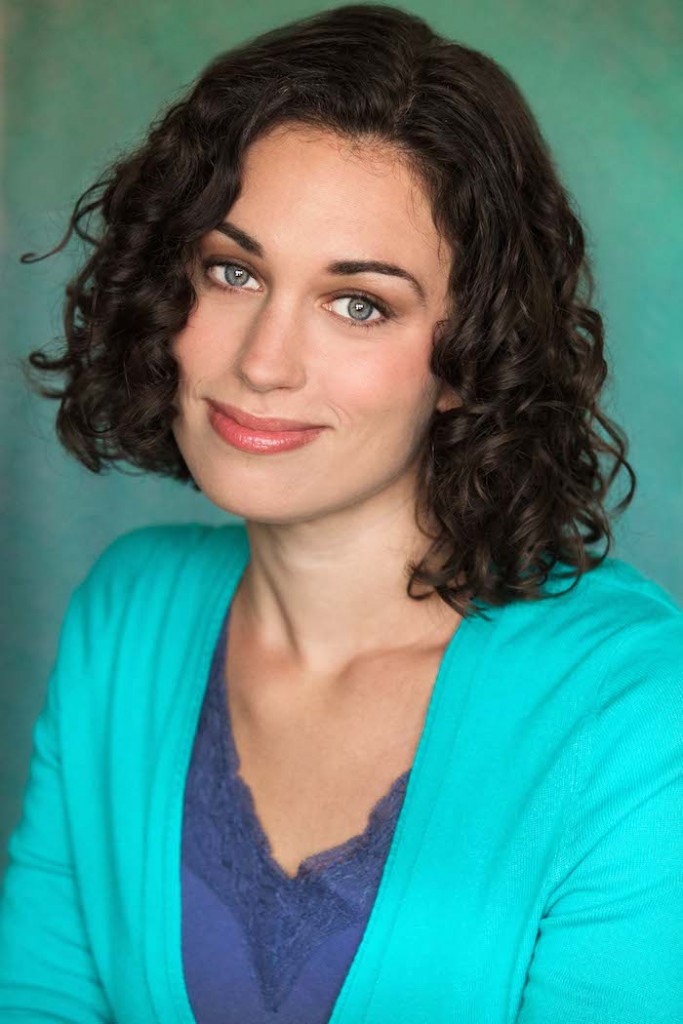 Comedy in New York:
Steph studied improv at the Magnet Theater through level 5, completed the sketch program, and performed on sketch teams: Alchemy, Colorado Dad and Dispacho.
She also performed on an indie improv team Gilda and on the sketch duo Firecracker, that made the web series White People Problems.
Current Comedy:
Performs weekly at the Nerdist with her improv team Pilgrim. Hosts an Entertainment Industry panel for women at the Nerdist School with fellow teammate Lindsey Barrow. Co-hosts a monthly all female mix-em-up improv show called Girl on Lady Action with Maura Ruth. She also recently wrote a web series and pilot, with Dave Warth over Skype and they are in post production of their first episode.
All while working as a writer's PA on Selfie and now ABC's The Catch.
---
How long have you been in LA?
It will be two years in October.
How does the improv scene there compare to NY?
There is just as much opportunity in LA, I just feel like it's more spread out, and, for me, it's a little more difficult to do. I remember jumping theater to theater in New York and here it's different because you have a car and you have to drive and park. But there are a lot of indie theaters.
Do people tend to be members of a few different theaters or do they stick to one?
No there's a lot of crossover here. It's the same as in New York.
Are you primarily a writer, improviser or a sketcher?
Right now I am primarily a writer. I do perform weekly, but I'm not auditioning. I'm working on writing for TV. I got a manager out here and so I'm working on having some samples that are more TV. They have all my sketches and they have been using them to pitch, and I'm working right now with Nerdist to get the video production side up. And I'm actually hoping to get live sketch up at the Nerdist as well. I just love sketch so much, but in terms of having something to make a living off of, I want to write TV so you need to have good samples.
How hard is it now to pitch to sketch shows that are currently on the air? Do you have to know people on them?
Yeah, and that seems to be the case in general. You can still get hired off your samples and stuff, but it always helps to know somebody. I've gotten my last two jobs because of recommendations from people.
How did you know people in LA?
My cousin is a set designer and he worked with somebody who was working on Raising Hope at the time, and she invited me to set, which was freaking amazing, and I met the production coordinator on that. That production coordinator happened to get hired on the pilot of Selfie and gave me a chance. So for two weeks I was working on the pilot and I spoke to everybody and said 'I want to write!' and so when the time came around for the show, the showrunner's assistant who was working on the pilot asked if I wanted to interview for the writer's PA gig. And from that, the director of that pilot also directed The Catch pilot, so her assistant forwarded my resume on.
I'll come back to your jobs, but first tell us about your writing process.
I like deadlines, so if it's something like a writer's program or festival deadline, that's what feeds me. So it depends. I'll sit on an idea for a year, and I won't do anything with it until I see - 'oh, someone will actually look at this.' And I'll sit and I'll write it in two weeks. I don't know why I do that, and it's not good and no one should do that.
Do you ever set your own deadlines or does it have to be external?
I have on occasion, but it's usually – 'this festival deadline is this week, so my deadline is a week and a half before.' It's not a way to live. Don't do it that way.
[Just now - Steph gets a pizza delivered. AND she doesn't eat it until the end of the interview. Obviously displaying some extraordinary mental toughness required to gain writing chops in LA.]
How did you get a manager?
I have a friend of mine who I knew in New York who is an actress. She started her own production company and produced two shorts that went to some festivals, and so when I came out here, she said 'give me sketches'. And I said 'here you go.' We shot some stuff, and then someone I met through her was a manager, and at the time I guess, not that I wasn't looking - I love acting, but I came out here because I knew there was more opportunities for writing than in New York. And then when I did the CBS Diversity showcase I ran into her again, and they were opening a literary division at their management company. She said just come and meet with us and see if you like the team, so I met the team and they're now repping me.
What did you have to send them?
I sent them so much stuff. I think I sent them an original pilot and a Bob's Burgers spec. Then they were like 'great, send us more stuff', so I sent them a bunch of sketches and I sent another pilot and some shorts that I've written.
What I've heard the trend is now is to have an original pilot and if someone likes that, then they want that spec to see if you can write in somebody else's voice.
How long does it take you to write an original pilot?
It depends. The last pilot I wrote took me two and a half weeks. But technically if you add all the time I'd been sitting on it and thinking of the story, at that point I had all the beats in my head before I sat down and started writing.
Do you show people your work? Do you have a writer's group?
I have a writers group and then I have some other people that I bother. You can't be precious with your writing. And that's another thing that being on a sketch team at the Magnet definitely helped me out with, you just can not be precious with your writing.
When I'm really working on something I'll sit down for 2 - 3 hours at a time and knock out what I can.
You mentioned Russ Armstrong was a memorable sketch director. Was there anything you learned from him that you think about today?
Russ has a really good work ethic and my favorite thing I learned from him was about keeping everything succinct and short and your jokes being real clear and not having any of that junk around it, because it just muddles the joke.
What do you mean by work ethic?
He was fantastic at giving notes and really tried to get us to memorize our sketches and then run them and run them, always e-mailing and being supportive but also saying 'we have to get our stuff up' and 'does everybody have their things.' He was always present at the meetings. Always ready to give feedback and ready to keep it moving and make sure we got as much as we could from every meeting. There wasn't a lot of messing around, which can happen when you have a group of writers together.
You currently work as a writer's PA. How is a writer's PA different from a writer's Assistant?
A writer's assistant and a script co-ordinator, depending on the show, overlap some. A writer's assistant generally takes notes in the room, and then because you're (hopefully) writing down everything everybody is saying, at the end of the day you have to organize it, and so depending on the show a lot of the time the script coordinator and the assistant, they'll kind of swap off that duty. And once the scripts come out, you're also responsible for proofing the script and making sure that everyone gets the newest version of the script and that you're not messing that up, and you're also making sure there's no typos. And then on my last job they were also dealing with intellectual property stuff. So if you want a song in there you have to deal with that too. As a writer's PA - lunch is my biggest duty. I mean, it's like food. It's really a lot of food. Lunch, the kitchen, coffee. You also handle the paper and office supplies. Once scripts get going then you're responsible for distributing the scripts. On Selfie though, because it was such a social media based show, I got to help write some things like fake yelp reviews. I also got a tweet on the show with my twitter handle, that I wrote - so that was really cool - those little things where I got to pepper in creativity.
Does everyone assume that as a writer's PA or Assistant, you want to be a writer?
The assumption is there, and depending on the staff, both my staffs have been amazing, they'll ask you what do you write? what's your genre? Who do you like, what shows do you like?
Do you find writing pilots hard?
Oh yeah. Well you know what's difficult is that balance between introducing all your characters, but also having a compelling story, because you don't just want an episode of 'here's all the people you will be seeing for the rest of the season.' There needs to be a contained story within it.
Do you get to see how much influence the showrunner has in a writer's room and on breaking story? And does that relate to how our sketch directors are at the Magnet?
Yeah - it's an interesting process because everything does go through them, but both showrunners that I've seen are very open - I mean it's so much of a collaboration of the room, and basically what happens is you break a story, and then it's one person's episode so they really get to write it and then they bring it back and then you all edit it together. But then there's this other person not in the room, that's the studio, and that's where the showrunner comes in. They have to go and say – 'here's the story we have.' And then they get notes like 'Oh we don't like this, we do like this, can this be like this,' and then the showrunner has to bring that back to the room.
Please eat pizza if you are hungry.
That's one fun perk about being a writer, there is so much food, so you eat all day long.
How many hours do you pull a day?
The hours really depend on the show. Both shows that I've worked for have been pretty great with their hours. But there are others that the writers will work on until, like, midnight.
What would be your dream tv show to write on at the moment.
I have two. Last Man On Earth, and Veep.
You're a dart champion?
Oh yeah! I was. We used to play darts in NY. I was in a league, it was every Monday night and I did that for about seven years. And I really miss it. I love this business and I love writing, but to have something that's completely outside with a bunch of people that don't give a shit, it's really nice.
Last Question. What things did you wish you'd known before you moved to LA?
Unless you come out here already with rep or already with some big credits under your name, no one will really appreciate what you did in New York. And it's a really hard thing to accept. Especially when you first get out here. Someone I know was on Broadway who came out - and it just didn't translate. It's something that you have to accept. And there are a lot of people here from New York, so you're not totally starting at zero, but it's definitely like taking two steps backwards. So that was the biggest thing for me. And you kind of accept it and you don't have a chip on your shoulder and just keeping on working, people will recognize it, and eventually people who work with you will be like - 'oh you've done all these things?'
And the other thing is parking sucks. Always give yourself 15-20 minutes just for parking wherever you're going.
Thanks Steph! We wish you luck! You may now eat the pizza.
Interview conducted by Ally Kornfeld for Magnet Theater.
Tags:
Alchemy
,
ally kornfeld
,
Bob's Burgers
,
Colorado Dad
,
comedy
,
dispacho
,
Firecracker
,
Improv
,
improvisation
,
interview
,
LA
,
Last Man On Earth
,
Los Angeles
,
magnet
,
magnet sketch teams
,
magnet theater
,
Nerdist
,
pilot
,
Russ Armstrong
,
Selfie
,
sitcoms
,
sketch
,
sketch comedy
,
spec script
,
steph garcia
,
television
,
The Catch
,
Veep
,
writing