Kill Your Darlings: The Armando Diaz Experience
Magnet History Thursday April 9, 2015, 11:00am - by Magnet Theater
---
To celebrate the 10-year anniversary of Magnet, Sulaiman Beg and Kelly Donahue have developed an Oral History of the Magnet Theater.
The full story will be released TOMORROW, Friday 4/10, but in the meantime we are releasing some interesting stories that didn't make the final cut.
Today, Magnet Theater co-founder Armando Diaz explains the origins of the long-running "The Armando Diaz Experience." Tonight, ADX kicks off the Magnet 10th Anniversary celebrations with monologues by Ira Glass of This American Life. Advanced reservations are sold out, but a limited number of tickets will be released at the door.
----------------------------------
The Armando Diaz Experience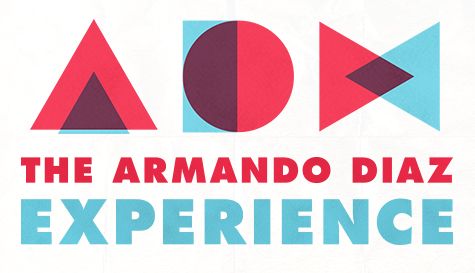 (Diaz, then a 20-something film-school dropout, had been taking classes with Del Close and Charna Halpern at the iO, since it's early back-of-the-bar days. Close eventually left Chicago to try his luck in L.A., and Diaz feeling at a low-point in his improv career, quits and goes back to film school.)
Armando Diaz (founder, co-owner, teacher): I graduated and I was just trying to find film work. It's not easy trying to find those jobs in Chicago. I was videotaping weddings, I was working at a dubbing house where they dub commercials and instructional videos and you had to watch the same thing over and over for 8 hours. I was really in hell.
Me and Kevin Dorff were living in an apartment together and I still had improv friends, so I'd go to parties and shows and whatever, but I had given up. And people were like "Oh there's that guy who used to do improv, whatever."
I got burnt out. My life was a mess. I just was really kind of like, "Eh, I don't have a degree, I'm not making any money. What future does any of this have?"
Around that time Charna is opening her theater. She had gotten a theater on Clark Street and it was a big deal. She had taken the first risk of renting space, it was like a tiny 40-seat theater. And then that went pretty well so she decided to take the plunge and get a full theater, bar and all that kind of stuff. At that point a lot of people had been hired at Second City and were going on to become paid actors and stuff like that, so they were looking for shows to put into the space.
It was like, well she's gonna have two stages, and they wanted to have some alumni shows. So we were in Kevin and my apartment. It was late, we had closed out the bar, and we came back to the apartment to drink. It was Dave Koechner, Adam McKay, and Kevin and we were just sitting there. It was funny, they would bitch a lot about not getting to do improv, because they were doing Second City and it's all written stuff. They do improv stuff but they didn't get to do Harolds. They missed that.
So they started pitching this idea of an alumni show, and made a cast list of all the best people. They kept on saying, well it's gotta be egoless work. Let's not let anybody do hacky stuff or have any kind of personalities. There were like 30 or 40 people on the list. The other thing was how are you gonna rotate people in. Adam had this strange idea of calling the show "The Armando Diaz Experience" and saying well you know anybody in the show has to serve Armando. We're going to create this ego, this figurehead.
I think it's kind of like the founding of the United States. Where its kind of like, "Well we don't want a king we want a weak president." I think subconsciously that was part of it.
Me and Adam were friends and share a lot of comedic sensibilities. He enjoyed stuff I did. He always had a lot more confidence in me than I had in myself. A friend of ours had died, this guy Rick Roman, and a year earlier they had put together a memorial show and they were gonna give away a scholarship to go through the Second City Training Center.
It was a fundraiser, and Adam was like you gotta be in the show and it was like, "What? Doing what? I'm not in improv, I quit improv, I'm back in school." He's just like "I'm just putting you down to be in it." And so I kept saying, "Adam, I don't do stand-up." You know. But there's no getting out of the show so I was just like totally agonizing up until the day of the show and then suddenly the show's going on, and I see the order, and we're coming up to my space.
I wrack my head for like something to do. I tried writing stuff and and it was all terrible. So finally I was backstage, I'm about to go on, and the lights came up and I was still frozen backstage. And there was an empty stage and everyone's like what's going on. So I just came out and I was like, "Hi my name's Armando Diaz. I'm not going to lie to you, I didn't prepare anything for this show. I just really wanted to be in it." And everyone started laughing. And I was like, "Uh, the thought occurred to me, like, 'Hey, got any questions about Rick? Rick was a friend of mine. Got any questions?'" The audience would ask me questions, and I would just tell stories. And I just kind of told a lot of stories about Rick. And for some reason it just went over really well. It was in that moment, that me improvising monologues sort of happened.
Jump forward a year, and the same situation. I'm like Adam "What is the Armando Diaz Experience?" He was like, "It's whatever, just do what you want." And they just worked on the rest.
I'd get reports back from Charna, she's like, "We're sold out for the first show!" And I was like "What? What?" Dave Koechner got Del. He was like "Del's gonna direct us." So I was even more scared. So I showed up to rehearsal and the only thing I could think of was to improvise monologues. So, I was like, well I'll just do that. You guys do the improv and I'll get out of your way. And so we tried it. And I was just nervous as hell.
I looked around the room. It was just everybody. Tina Fey, Amy Poehler and Matt Besser and Matt Walsh and Ian Roberts and Adam McKay and David Koechner and Kevin Dorff. Miriam Tolan. Neil Flynn. Jimmy Carrane. Leo Ford. I'm missing a lot of people. It was just kind of a who's who of the most amazing improvisers on earth, and then an idiot like me, fronting the show. Everyone's waiting for me to do something that they could use. Rehearsal was terrible. It was just really rotten.
Unfortunately, they waited until last minute to book rehearsal. So this was two weeks before the show started. We did the first rehearsal on a Saturday and it was just a total disaster. And we had a preview show on Monday, and only two guys showed up to the show. Which was lucky. Two people in the audience. Two frat guys. And so we get up to do the show and my monologues suck and then halfway through the show it was like, "Yeah, let's give up on this" and we refunded the guys money. They were like "This sucked."
I was just stuck. I couldn't talk. I felt like I became an idiot when it came time to tell a story. Nothing came to me. And it was like in a week we're gonna open the show, there's gonna be press there, they're gonna review it, there's a packed audience.
We had one more rehearsal the next Saturday before the show, and Del started the rehearsal like this, "You know there's something in show business that's just a sucker punch." Something about conning people. Basically to the effect of, are we really gonna do this? Or do we have to find something Armando can do? And basically just in front of everybody let me know like you better get it right or we'll replace you or put you to the side or whatever. I was like holy shit.
Right before I was gonna do the first monologue, he said to me, "Remember the old timey impersonators, you know, like when a comic that would do an impression of somebody. You know how they would turn their back and pretend to transform themselves into that character, do something with their hair, or collar or something like that." He's like, after you get the suggestion, I want you to turn around and I want you to do that. And I was like, what, this is ridiculous. He already thinks I'm an asshole. Everybody was just really on edge.
So we started, we get the first suggestion, I was like okay great, I turned around, pretended to like, you know, and then I turned back around to give a monologue. And it actually worked. It was like "Holy shit that was actually a pretty funny story." And then they did some scenes. And it was time to do another monologue and I turned around, did the same thing, told a story, and then again another monologue. And then they did some scenes and Del's like, "Alright, cool. We're done." And then he just left.
We spent like 20 minutes practicing, and then it was like, shit the show's on Monday. So, I felt a little bit better because it was like okay, this little device seems to work for me, I don't know why, some strange Del magic. But then, over the weekend, I lost my voice. I was so nervous like by Saturday night, I could not get words out. I had like laryngitis. I went to work on Monday, and again, I tried to spend the whole day not talking. And I went up to iO after work and slowly my voice started coming back. It kind of just came back just in time for the show.
We did the first show and I did all that stuff Del said, and it was just like...wow. It was a kick-ass show. I did work that was worthy of the cast. I didn't feel like I totally let them down and all that stuff. And then from then on it was just a hit show.
I did it for a few months, and then at a certain point I was like, I don't know. I'm not gonna become an actor. I'm kind of running out of stories. I don't feel good about repeating stories. And I was taking time off from work to actually do it. I couldn't do that indefinitely.
So I said to Charna, "Hey I gotta stop doing the monologues for the show. So why don't we close the show and then just put up the same kind of show with a new name. Let's just take my name off it and make it a new show." And she was like, "No, no we'll just get someone else to do the monologues." And I was like, "Are you sure? You know you could change the name." But they'd put reviews out. It had been labeled. I could see her point. But I was like, "Okay, all right, I could disappear and you guys can keep doing it." I did my best to fuck it up and not be in it and it was something that was bigger than me.
(As told to Sulaiman Beg and Kelly Donahue)
Tags:
adam mckay
,
armando diaz
,
Charna Halpern
,
Chicago
,
comedy
,
David Koechner
,
del close
,
ImprovOlympic
,
interview
,
iO
,
Kelly Donahue
,
kevin dorff
,
kill your darlings
,
magnet
,
Magnet Oral History
,
magnet theater
,
Magnet Theater Oral History
,
oral history
,
Second City
,
Sulaiman Beg
,
The Armando Diaz Experience