New Show Alert! Introducing…The Generator!
Opportunities, Shows Friday February 20, 2015, 11:04am - by Magnet Theater
---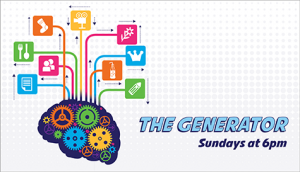 Working on solo characters? Developing a new sketch?
The Magnet Theater is proud to present a new show coming in March, powered by new ideas—The Generator!
Every Sunday at 6pm, Magnet students, writers and performers try out brand-new sketches and solo characters in 5 and 15-minute slots. The Generator will also help writers develop a larger show one piece at a time. It's never-before-seen comedy for your eyeballs.
See you at the premiere on Sunday, March 1st at 6pm.
Questions? Email themagnetgenerator@gmail.com.