Chatting with Magnet Video Lab's Annie Quick
Improv Friday January 23, 2015, 10:59am - by Magnet Theater
---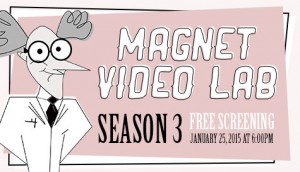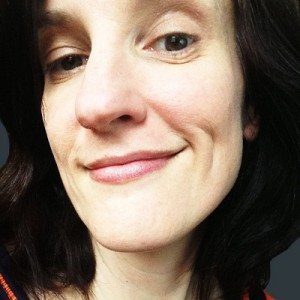 Magnet Video Lab premieres its third season on Sunday at 6pm, so we thought we'd catch up with Annie Quick, one of the driving forces behind the entire operation (along with Jim Turner and everyone's favorite friend, Armando Diaz). We asked her a few questions over email and she was kind enough to give her insights on what makes a great video, how MVL has grown, and how important deadlines are to the process (spoiler alert: very important). Check it out!
1. Why did you start the Magnet Video Lab?
I took Sketch Level 1 & 2 at Magnet and loved the structure of it—it's a great way to get feedback and have writing deadlines. At some point I realized that's what I needed for a few video projects I was working on—the self-generated films that were suffering from lack of a formal work structure.
Since Jim Turner and I both work in production and he's also at Magnet, we thought it might make sense to start a group in the style of Magnet's sketch writing classes. Our main goal was to have each participant come out of the ten-week session with a completed video.
2. What's a Video Lab?
At one point, Jim had pointed out we were essentially creating a salon where creators come for mutual support, but in the end we decided that lab is a better handle—it involves assignments and deadlines and an expectation that you're obliged to show up because your lab partners are counting on you.
Jim and I spent a lot of time talking about the roadblocks we encounter when we're working on our own films. All steps of the process are challenging. At any stage a project can flounder from lack of labor, feedback, gear, time, etc. The thing that sinks most film projects, though, is the lack of a real deadline. That's the main thing we wanted to give everyone.
We also thought about how a beginner might dip their toes into the water and gain knowledge and confidence in the process. The Video Lab is a place where beginners and experts help each other bring their projects to life. Everyone rolls up their sleeves and pitches in.
3. What's your favorite thing about the Magnet Video Lab?
I love that we are all working on our own things.  I know that other groups exist where everyone works on the same video together, and that's cool too, but I think the Magnet's program is unique because we support the individual filmmaker and help them to bring their own ideas into the world.
For me, that's been educational because I've had to wear so many hats that wouldn't if we were all working on one film. So, for instance, this session I helped one of my labmates with costuming and another session I was a DP, and for others I've helped out in audio.
I also take a lot away from watching other people go from blank page to done. Films are so time consuming to make, and so it's really inspiring to be around a group of people who are finishing their stuff, and making great stuff!
4. How has MVL grown?
It's been a trial and error process, taking a group of strangers and making them into a video-making team. At the beginning I thought of it as mostly a creative project, but it quickly turned into a lesson in group management. Jim and I have spent a lot of time tweaking the process and getting feedback from the Lab members so that each session is a bit smoother than the last. There are a crazy amount of details to handle when you have ten weeks and seven films to make.
In the first two sessions we kept it very small—only seven participants, so that we could beta test the process and figure out what we were doing. That first session Armando helped us to sort out a structure and also came to our table reads for feedback on our scripts.
In the third session our goal was to scale up a bit. We wanted to see if we could keep the level of engagement with a bigger group. We also wanted to add new people with different skill sets and experience levels. So far it's been working great! It's been both productive and friendly, and a great stretch for all of us.
The great thing about Magnet is that people come with comedy and story skills so even if someone doesn't have any production knowledge, they still have a lot of useful feedback to give and a lot of talent to draw on.
5. What is your role?
I am part teacher, part student, part manager, part strategizer, part director, part production assistant. The first two sessions I did a lot of  teaching about editing and post production, while Jim handled a lot of the shooting guidance. In our third session, people are more up to speed in those areas and we can be a little more hands off.
6. What's the most important piece of advice you would give to comedians creating their own videos?
Is it okay if I have three? I can't pick just one.
First, learn to edit. It's the most time-consuming part of filmmaking and the hardest to get someone else to do well. If you learn to edit you can control the pacing and, essentially, how funny something is. It's also the point where a lot of projects get derailed. If you're controlling that step you can make sure it gets out there.
Second, I'd say pay attention to capturing good audio. If, as a beginner, you learn that well, your videos will be 30% more credible right out of the gate.
Third, remember film is different than live. It's pretty hard to retrofit stage pieces or improv into a watchable video. So start from scratch and write for film, at least while you're in the beginning stages.
7. What's your favorite internet video of all time?
Maybe this is cliché, but I'm standing by Dramatic Chipmunk. Love that guy.
Once again, thanks to Annie for all this awesome info! Don't miss the screening of Magnet Video Lab's third season this Sunday at 6pm. Did we mention it's free? Because it is. See you there!