New Sketch Teams Announced!
Sketch Monday December 22, 2014, 9:11pm - by Magnet Theater
---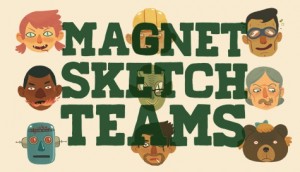 Congratulations to the newest Magnet Sketch Teams and the newest additions to Action Park and Baby Shoes:
NEW TEAM NICHOLS directed by Rob Webber
Kim Ferguson
Becca Schall
Lane Kwederis
Brandon Lisy
Matt Alspaugh
Kelly Kreye
Alex Kane
Patrick Haggerty
Lex Morales
NEW TEAM MAY directed by Jana Schmieding
Pratima Mani
Rosie Whalen
Elena Skopetos
Jesse Mudrick
Ross Taylor
Jimmy O'Connell
Andrew Mills
Ari Miller
Trumane Alston
Action Park directed by Joe Lepore
Michael Delisle
Dmitry Shein
Dennis Pacheco
Dan Dobransky
Geri Cole
Hannah Wright
Sierra Pasquale
Ingrid Ostby
Jonathan Keller
Baby Shoes directed by Becca Schall
Megan Meadows
Mike Dwyer
Chano Garcia
Ally Kornfeld
Robert Kern
Amanda Xeller
Greg Boz
Tom Dunlap
Evan Forde Barden
Teams premiere on Sunday, January 18th, 7:30pm. See you there!