Interview – Lane Kwederis, of Magnet Sketch Team 'Party.'
Interview, Sketch, That's Deep Monday July 21, 2014, 1:14pm - by Magnet Theater
---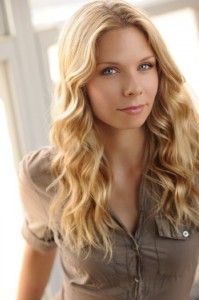 Lane Kwederis is a sketch performer at Magnet (she and I are the two women on the sketch house team, Party.) Lane also performs with her indie improv team, Power Nap, and her PIT musical team, [Title of Team] (That's the actual title of the team, not a placeholder for this article). She's got skills.  And she's a wonderful person.
And I got to ask her some brilliant questions.  I'm such a good interviewer.  Check it out:
You're a quadruple threat: actor, dancer, singer, and writer. You are also the official choreographer of our sketch team, Party. Where did you grow up? What's your training background?
Hey thanks! I grew up in Boca Raton, Florida. I have a BFA in Musical Theatre from The Boston Conservatory so I would say that's where the majority of my "formal" training came from.
You've been on the hit Comedy Central series, Broad City. Could you describe the auditioning process of how you got your role? What was your experience during the shoot?
Broad City was such a blast to shoot! I was the saleswoman at the register in the episode, "Fattest Asses." Abbi [Jacobson] and Ilana [Glazer] are so freaking cool, fun, and down to earth. The auditioning process was pretty simple. I came in and read for two different roles and they threw a third role (just a one-liner) at me in the audition and that was that. They gave me some direction and were really fun to work with in the room.
https://www.youtube.com/watch?v=X6g81LPBoBw&start=90
You went on national tour with Dirty Dancing as a dancer, and even lived in Toronto for an extended run there. What was that like?
Dirty Dancing was super fun! I enjoyed the cast a lot and that makes a huge difference. I know some people who travel with a show, and the cast doesn't get along or just isn't very social, and that's the worst. One of my favorite things about the show is that they were all such party animals. Everyone could dance so well! Even the boys! I was surrounded by a bunch of hunks, and I learned what it really means to follow your partner and let the man lead. I met my boyfriend on tour and now every time I get drunk, I always want to do the famous lift with him!
https://www.youtube.com/watch?v=WpmILPAcRQo&start=197&end=215
Any advice to improvisers and comedy performers who are going on auditions?
I would say just do it as much as possible because the more you do it the more you feel comfortable in the room. Also, it makes you realize that each audition really is just a drop in the bucket and that you have tons of opportunities out there for you.
Our sketch team, Party., traveled to its very first sketch festival, the Montreal Sketchfest. We had a great time and were well-received. Any interesting things you learned about your teammates on the road?
Montreal was a blast! I had such a fun time bonding with everyone and definitely suggest traveling with your team as a great bonding experience. I would say I learned that we all can eat just about anything and EVERYTHING. I was impressed with the amount of food we stuffed down our gullets.
[caption id="attachment_3845" align="aligncenter" width="300"]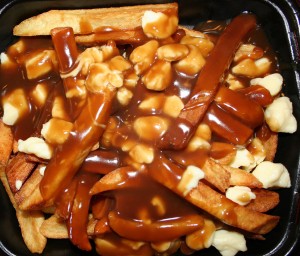 Exhibit A: Poutine[/caption]
Could you talk a little bit about Party.'s current show, Party. Presents TV Kids Place!, and your role as the host? Are there any actors or characters that you are drawing inspiration from, for this role?
I'm so excited about TV Kids Place! Most sketch shows are just a series of sketches, usually with some connections as the only through-line. This show has an arc with plot, and there are some really fun characters. It's actually a pretty character-based sketch show, as opposed to premise or parody-based, so that's really rewarding. I find character sketches always make me laugh the hardest, and it's great because you can take those characters and place them in a ton of different scenarios. My character, Pippi, is the host and she is a really fun and open-hearted character. She's kind of like a female Mr. Rogers, which is fun because it's usually just men that host variety shows. It's refreshing to have a woman doing that.
[caption id="attachment_3846" align="aligncenter" width="300"]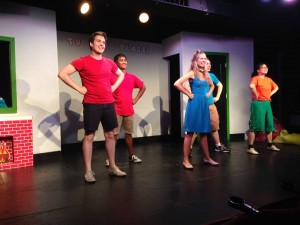 Pippi and her TV Kids on TV Kids Place![/caption]
This show is very different from our previous shows. It has been an interesting challenge for us to write towards one unified idea. We are all such different writers and performers. How has the process been in putting together this show?
I was very overwhelmed by the idea of completing this project. Alessandro King's direction had a lot to do with shaping it. Also, the many MANY email threads helped too. We just kept spitballing ideas and figuring out different ways to tie them together. I am so proud of how it turned out. It was a long process that was very rewarding.
Our director, Alessandro King, is stepping down as our director after this run, and we are all so sad! This show marks the end of our collaboration with him, and we're all working hard to make sure we end our time together on a high note. What's your favorite weird Al King memory?
Al has seriously been our rock. The fact that he's a playwright has especially helped steer us while writing this show. One of my fondest memories was when he played Stan Lee in a sketch with us. He improvised so many hilarious bits! I couldn't control myself the entire time he was onstage. I broke numerous times because I just couldn't contain my laughter. That was definitely a highlight.
https://www.youtube.com/watch?v=bNZWm-8qdM0
Lastly, everyone has to know about your cat, Dex. He looks super ancient and wise. What kind of cat is he?
He's the coolest! Dex is a Cornish Rex. Cornish Rexes are the BEST. They are hypo-allergenic and are the most dog-like cats out there. He never hides and always wants to meet strangers. I adopted him when he was 2 years old and we sleep together every night! We spoon like little lovers.
[caption id="attachment_3847" align="aligncenter" width="300"]
Dex the Cat is the Official Little Lover of Party.[/caption]
Thanks so much, Lane!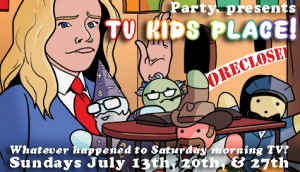 Catch the final show of Party. Presents TV Kids Place! on Sunday, July 27 at 9pm, at the Magnet Theater. Seating is limited. Reserve your tickets today!
So, I told you these were brilliant questions.  Feel free to chime in below...