Magnet's Baby Shoes Heads to Philly
Sketch Tuesday June 17, 2014, 1:43pm - by Magnet Theater
---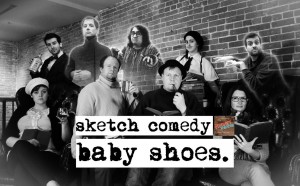 Baby Shoes fresh off their trip to Montreal continues to take the show on the road! Magnet Theater's notoriously dark humored house sketch team is trekking down to Philly to perform some of their best sketches. If you happen to be in Philly, check them out at 9:00 P.M. on Friday, June 20th at PHIT's new home in the Adrienne Theatre.

The cast's credits include "iCarly," "House, MD," Newsweek, The Huffington Post, Broadway.com, The Truth Podcast, Reductress, Story Pirates,  as well as an LA Weekly Award winner and an ATX Television Festival Pitch Competition winner.  Check out their youtube channel for some of their live sketches!
Baby Shoes is Roger Ainslie, Chano Garcia, Bob Kern, Ally Kornfeld, Michael McLarnon, Megan Meadows, Andy Moskowitz, Nivea Serrao, and Amanda Xeller. They are directed by Alex Marino.