An Interview with Alessandro King of Listen, Kid! + Montreal Sketchfest 2014
Congrats, Festivals, Interview, Sketch Friday April 18, 2014, 9:27am - by Magnet Theater
---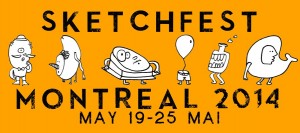 The Montreal Sketch Comedy Festival just announced its 2014 lineup, and the Magnet Theater is proud to be represented by three of its teams: the veteran duo, Listen, Kid!, and two of its house teams from Sketch Sunday, Baby Shoes and Party.
I recently chatted with Alessandro King of Listen, Kid! about life, sketch writing and sketch directing, and festival first-timer advice.
Hi, Al.  Nice tie.  How did you and Kevin Cobbs decide to become a sketch duo?  How long have you been a duo?
Listen, Kid! started four years ago when Kevin and I met in Mark Grenier's Improv Level 1 at the Magnet.  We kept doing really goofy scenes together where one of us would play a prospector or explode through a door or something, and everyone encouraged us to create an indie duo once class was over.  Rick Andrews was the big brother for the class and he said, "If you guys make a duo, I will coach you."  So we did, and Rick got us hooked up with two Test Drives, and by Spring of the following year we were doing Tuesday night shows pretty regularly, usually with Upstate or the Oakwood Boys.  It was very much a Magnet Theater Fairy Tale.
We decided to focus on sketch in the Fall of 2011 when someone whose name rhymes with Blick Blandrews suggested we join RIPE with Armando.  We put up our first Listen, Kid! sketch show (I think) in April of 2012, and we've been focusing on sketch (Magnet shows, festivals, web videos) ever since, although we still do improv every once in a while, usually with our pals We're Matt Weir as Listen, Weirs!
[caption id="attachment_3541" align="aligncenter" width="300"]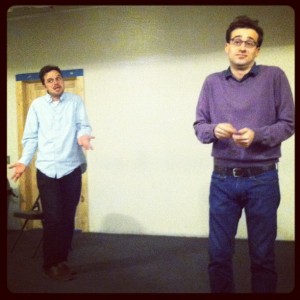 Listen, Kid! Kevin Cobbs (left) and Alessandro King (right)[/caption]
How do you both collaborate when writing sketches for a show?  Did you work on sketches together when Kevin went on the Second City cruise ship for 4 months?
Our Clinton/Bush sketch is a pretty good example of how we work as a team.  I read on Wikipedia one night that Bill Clinton supposedly lent George W. Bush his DVD copy of the film "W." and Bush watched it, commenting to Clinton that it had some "sad moments."  I immediately called Kevin and told him and said something like, "This is the dumbest thing I have ever read.  We have to make this a sketch.  Was Clinton actually being a pal or was he just trolling?  This is the dumbest thing I have ever read."  I described to him my visual idea (the whole sketch is a series of phone conversations between the two, with each president sitting in a special light), and Kevin immediately wrote the first draft.  It was eerily similar to what I had in mind, only funnier, with the amazing climax of Bush e-mailing Clinton scans of his paintings and Clinton weeping profusely at their profound beauty.  I made a couple of small changes and it was ready to go.
Kevin's internet access was limited on the cruise, we but still managed to go to Chicago Sketch Fest with Branson Reese and Chi-Town friends sitting in for Kevin, edit a new Mad Men-themed web video, share a couple of sketches, and develop a web series idea.  Stay tuned for further updates.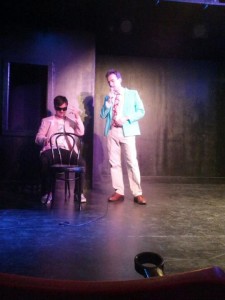 Listen, Kid! was reviewed very favorably by the Chicago Tribune after your performance at this year's Chicago Sketch Festival.  Does Listen, Kid! have big plans in store for the future?
We're focusing on web content, getting ready for Montreal, and developing an all-President-themed live sketch show.  You can keep up with us online at listenkidcomedy.com, on YouTube at ListenKidComedy, and on Twitter @ListenKidComedy.
At the Montreal Sketchfest, you will have the unique honor of performing there as a member of a critically acclaimed sketch duo, and as the director of a Magnet sketch house team, Party., that is also performing in the same festival.  Party. is the first sketch house team that you've directed at the Magnet.  Why did you decide to become a director?  How has your experience been so far?
Beth Newell asked me to sub in for Breakfast For Dinner a couple of times last year, and I said, "Yes," instantly.  I just had an inkling that directing sketch would come very easily to me and bring me a lot of creative satisfaction.  It didn't seem like, say, coaching improv, which I've never tried but always assumed I'd be a disaster at.  (I'm still game to prove this wrong some day.)  I had a lovely time as was expected, and asked Beth to keep me in mind if a directing slot opened up.  When they formed new teams in September, I got asked to direct one for the season.
I absolutely love directing Party., and look forward to every minute of it during the week. They continue to impress me with their commitment and professionalism and blow me away with their rapid growth, particularly as performers.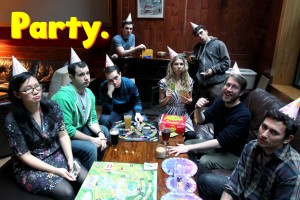 You run Party. like Singapore.  The streets are spotless, we attend meetings punctually and are off-book at every Saturday rehearsal, and we fear you. What is your philosophy as a director?  How did you decide upon benevolent dictatorship as the best way to run a sketch team?  (Editor's Note: The interviewer, Catherine Wing, is a member of Party.)
If I'm a benevolent dictator, keep in mind that I'm only partially responsible for that dynamic: deep down, there is something inside every one of you that wants me to rule you like a king.
I'm a playwright, so I run my writing meetings like a playwright's workshop, meaning my goal is to help you write the best version of your sketch.  I have no interest in forcing my own ideas or telling you what I think should happen next.  If I do make a specific suggestion, I try to make it very clear that that's only one possible route for the sketch.
When show week comes along, I make a setlist and become a director.  At that point, what I say, goes, and the edits I want to happen, happen.  It's a very different dynamic from the writing meetings.
You guest directed the Magnet sketch house team, Baby Shoes, for their most recent show.  Is it true that they plied you with free liquor, charmed you with their good looks and talent, and took you to Rye Playland to ride the roller coaster?  They are performing at the Montreal Sketchfest too, you know.
They did take me to Rye Playland, and let me just say that Bob Kern and I have only exited the Tunnel of Love in the literal sense of the word.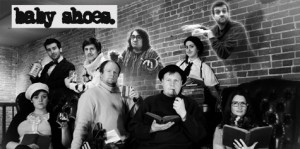 What advice would you give to sketch teams that are going to their very first out-of-town festival?
It's impossible to accurately predict the audience's reactions.  There will be some sketches they will love, but there will always be something that just bombs and you had no way to stop it.  When that happens, don't get caught up trying to figure out what you're doing wrong in the moment: theres nothing to fix, it's just not their cup of tea.  Get through the sketch and move on to the next thing.  That's the beauty of sketch as opposed to improv: you get to wipe your slate clean every couple of minutes.
What weird stuff did you learn about Kevin when Listen, Kid! traveled on the road together for the first time?  And what weird stuff did Kevin learn about you?
Each trip is really Kevin's learning experience because every time I offer to take the wheel, he has to devise new ways to say, "No thanks, I don't want to die today."
Listen, Kid! does improv?  Just the two of you?  Do you have guests sit in with you?  Who might they be, and when can we witness this rare opportunity to see Listen, Kid! improvise?
This Friday, April 18th, at 11:30 PM, we will be taking the Magnet stage for the first time since Kevin's return. We're going to be doing our classic improv form, which is an improvised movie hosted by decrepit Hollywood producer Irv Newberg and his dim-witted assistant Charlie Tickertape. It's a great way to see how this all started and there will be special guests, all of them popular recurring characters from the Listen, Kid! universe. There is only one way to find out who they are and that is to come on down.
Thanks, Al!