Magnet Alumni: Matt Koff
Improv Sunday February 16, 2014, 10:47am - by Magnet Theater
---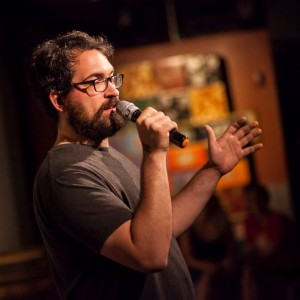 The Magnet Theater not only boasts its current roster of powerful improvisers, writers, and performers, but also celebrates those who have taken on new adventures in their lives and with their comedy.
Matt Koff, a writer for the Daily Show and stand-up, started off here at the Magnet and is now taking NYC by storm. We wanted to catch up with Matt and shine the Magnet Theater Blog Spotlight on him and his journey in comedy. I (Amanda Ariel Peggy Xeller!) conducted an email interview with Matt. Below are his responses:
Where are you from originally?
Ardsley NY. It's 45 minutes north of the city
When did you realize you wanted to get involved in comedy?
In my senior year of college. I had majored in English so going into comedy seemed like a similarly practical pursuit.
But I had been obsessed with comedy since I was a kid. In middle school I didn't listen to music. I listened to Monty Python casette tapes.
What is your improv and comedy history?
HOO BOY.
I started doing sketch and improv in college at SUNY New Paltz.
Then around 2004 I moved to the city and got involved with a theater collective known as Juvie Hall. There I got involved writing for a weekly show called Saturday Night Rewritten. I met a lot of very talented people, little did I know, I'd be working with later in my career, including my current Daily Show officemate Dan McCoy and my current boss Elliott Kalan.
Armando Diaz was teaching classes at Juvie Hall. I started studying sketch and improv under him, and continued doing so when the Magnet Theater opened. I was on a few Magnet House teams while also working with an indie sketch group known as Mr. Whitepants.
Along the way there were a few small successes that indicated to me that what I was doing wasn't a total mistake. I was hired to be a regular contributor for the Onion's video site, a webseries that I worked on with Dan McCoy, 9 AM Meeting, was popular at Channel 101 NY screenings, and actually got us a development deal with MTV. Then Dan got hired to write for the Daily Show and had to abandon the MTV project. The development deal withered because the truth is I'd been riding Dan's coattails during this process.
Around 2010 I stopped doing improv and sketch and decided to pursue stand-up comedy. The thing I like most about it, as opposed to improv and sketch, is that you don't need to book rehearsal space or corral fellow team members. It's a lot less administrative and you get to figure out how funny "you" are in your own voice, without the variables of being onstage with other people or hiding behind characters. Although, I've recently come back to improv and sketch and I like it a lot more now that I've sort of found my "groove" with stand-up.
What initially attracted you to the Magnet?
Armando Diaz. He is a great teacher!
Would you recommend that people interested in comedy start with improv? Why/why not? (if not where should they start in your opinion).
Yes. It's great training. It teaches you how to be in the moment, which is huge for any kind of comedic performing. And it also teaches you how to think and build of ideas (if this, then what) which is huge for any kind of comedic writing. Also for networking reasons. Doing improv is a great way to bond with total strangers immediately.
But in general, I would say try every form of comedy, especially when you're first starting out. You may be surprised at what you're good at. I came to the city to be in a sketch group, and 10 years later I do stand-up on most nights of the week.
How would you describe the feel of your comedy and stand-up? What's your style?
That's a hard thing to say from my perspective. I guess "dry", "Weird" maybe? Then again I know a lot of people who are a lot drier and weirder than I am. I guess you could say I tell one-liners, but that's not intentional. I'm just bad at writing long jokes. I guess what I'm trying to say is, "don't try and put me in a box, man."
How much does audience factor into your performance? Is there a specific group of people you are playing to?
Well, for stand-up, the audience factors in a lot. If people don't laugh at a joke, I probably won't tell it, or at least until I work on it some more. Then again, not every audience will laugh at every joke. If a joke gets laughs more times than not, I consider it: "a joke that works." The only group I'm playing to is "people who might find me funny." Certain audiences you just know you're not going to connect with as soon as you hit the stage, and you know what: THAT'S OKAY.
What tools do you use when creating work be it in stand-up or writing?
I tend to use a tiny notebook, a big notebook, a pen, a sausage a craisin, and Evernote. I will also workshop potential stand-up jokes on Twitter.
Can you talk about some of the projects you have taken on since improvising and performing here?
I co-wrote and co-voiced a webseries called "9 AM Meeting" with Dan McCoy, as mentioned before. I started a fake online campaign to raise money to buy a roomba. Last year I did a sketch show called The Matt Koff Show, which is the first sketch show I've ever written by myself.
How did you get involved with writing for Jon Stewart?
Well my old comedy buddy Dan recommended I submit a packet. So then I did. The show liked that packet, so then I submitted another packet. Then they told me no and almost a year later they were like "OK fine you can write for us."
Any parting advice?
If you want to do comedy, do it. If you want to write, write. If you want to perform, perform. Do it constantly. Make it your life. Don't compare yourself to others. Delete your Facebook account. Don't actually delete your Facebook account though, it's a good networking tool. And most importantly, HAVE FUN.