Magnet Alumni: Charlotte Rabbe
Improv Friday January 17, 2014, 11:35am - by Magnet Theater
---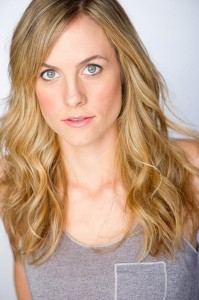 The Magnet Theater not only boasts its current roster of powerful improvisers, writers, and performers, but also celebrates those who have taken on new adventures in their lives and with their comedy.
Charlotte Rabbe, a phenomenal Magnet improviser, previously on The Wrath, is now out in L.A. We wanted to catch up with Charlotte and shine the Magnet Theater Blog Spotlight on her and her journey in comedy. We conducted an email interview with Charlotte. Below are her responses:
What's your home town?
CR: Where I grew up? Most of my family is living in NYC now so I consider that my hometown.
What is your comedy history (highlighting improv and sketch especially)? What got you interested and when were you first exposed to improv?
CR: I would watch a lot of stand up/sketch shows growing up (The State, The Upright Citizens Brigade TV show, SNL) and I was obsessed… When I started coming into the city after high school I went to a lot of stand up shows but was too afraid to ever do it. I ended up taking an improv class after college even though I had seen very little and got hooked.
What initially attracted you to the Magnet?
CR: A lot of amazing performers around town had great things to say about the theater. I really really wanted to be good at improv and after doing the intensive at Magnet it seemed like the right place for me. Everyone was so enthusiastic and knew so much, it felt really exciting to be a part of that.
What teams, shows, and projects were you a part of while at the Magnet?
CR: I was a part of Double Date, Sad Kids and The Wrath
What were some of your favourite shows and performers while here?
CR: I loved going to see Hello Laser, JV, The Boss, Trike, Brick and The Wrath (watching them while in the show or seeing them when I come visit now). There's so many great performers it's hard to pick a favorite. Emily Shapiro was always so fun to watch.
Who were or are your favourite improv instructors and why?
CR: Double Date and Wrath worked with Nick Kanellis a lot, who is one of my favorite coaches. It always felt safe to try something new, look like an idiot or make mistakes in rehearsals. He gets people to come out of their comfort zones, he is so great at identifying performers strengths and bringing them out.
What did you learn at the Magnet that helps you now?
CR: I learned that every performer brings something unique to whatever team/ project they may be involved with. I learned to be patient and trust that things will work out… Also that everyone bombs and everyone has killer shows and if you keep working you will keep getting better.
How have you grown as a comedic artist?
CR: I have way more confidence in my work. Also I may be a little taller (haha get it, that's a growth joke.)
Are you still improvising?
CR: I improvise once in a while now.
What projects have you taken on since your departure from The Magnet?
CR: I had a small role in a movie which was very exciting… Then mostly writing, acting and producing sketches.
What are you currently involved in?
CR: I am currently working on a web series with a with a writing partner, Jill Gutowitz, which I am psyched about. We shot the first one and are wrapping up the edit. It's called "Stefani C and Stefani J's Home Decorating Movie/TV Show TV Show". Please watch it when we are done.
What excites you and inspires you?
CR: Trying new things is really exciting right now, seeing what works and what doesn't then finding a way to fix it. It's exciting to know that you can always make your work better.
What are the differences between the New York scene and the scene of Los Angeles? 
CR: The Los Angeles scene feels a bit more laid back...but that could just be an LA thing… Also indie improv teams rehearse in people apartments in LA. I don't know why that is, maybe because apartments are bigger there?
What shows and performers should us New Yorkers totally take note of in case we take a trip out West?
CR: There's a lot of great shows I've seen, and so many I want to see. I don't go to as many as I would like to, so I'm not sure what to recommend. It's fun to see the improvisers that have been around for a long time and that I heard about while in NYC.
Thank you Charlotte! Charlotte just swung in to play with The Clubhouse. Keep an eye out for more of Charlotte's work.