Magnet Spotlight: SHACOTTHA FIELDS!
Improv Friday May 10, 2013, 2:00am - by Magnet Theater
---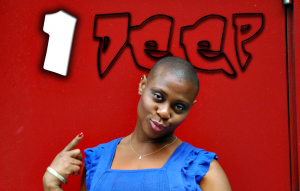 Shacottha Fields is a bartender and performer at The Magnet Theater. Her one woman show, 1 Deep, was a Critics' Pick in Time Out Chicago. Shacottha performs weekly with her newly minted Megawatt Team, Call Tokyo and monthly with the all-female improv group, We Might Just Kiss. If you don't know and love Shacottha yet, read on...
*Questions: So Shacottha, what's your story?
I'm from Nacogdoches, Texas. A small place where everybody knows everybody, I graduated with 18 other people. I went to college for Business and right after I graduated I moved to New York City to pursue acting. I realize that my personality was not fit for a 9 to 5. I figured utilizing my gifts of listening and making people laugh was a better way for me to live.
*Question: When you got to New York, how did you get started?
I was taking an acting class from an agent that would come to class and yell at us, "If you want to be an actor, you have to take improv!" So I did. I have taken classes at The People's Improv Theater and Upright Citizens Brigade. I started taking classes at The Magnet Theater two years ago and I'm so happy I did. I loved the foundation of improv that I received, more so the wide variety of improv forms that I learned as well. It was like a whole world of improv that I never knew. Last year, I saw Ben Jones do his one person improv show "Just Ben." I was so inspired. The experience I had at that show was so amazing I just felt like I wanted to create something of my own to share with the world. Unsure of everything, I started coaching with Rick Andrews. Together we developed my own form for my one woman improv show. Shortly after, I gave birth to my own improv baby, 1 Deep, now traveling to different festivals. I am also proud to say that I am a part of a new house team at The Magnet Theater, "Call Tokyo".
*Question: If you could have one super power, what would it be?
My super power would be to fly. I've always felt birds had the best view of the world and all its beauty. I would fly all over the world and see all the different people, the way they live, the ocean and terrain. I would observe the change in its texture, tone and material. I would just fly all over to experience every nook and cranny of the world.
Fly with Ms. Fields and Call Tokyo every Wednesday at Megawatt!