Company 29 Presents: Rock & Roll!
Improv Wednesday September 19, 2012, 1:52pm - by Magnet Theater
---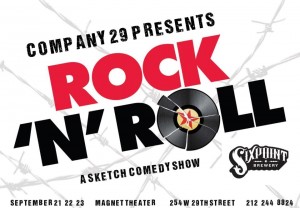 Company 29's newest sketch show takes a good hard look at all things that ROCK.  Not just music ladies and gentleman, we're talking love, freedom, and some good old fashioned Hall & Oates!  Featuring the Magnet's best sketch writers and performers, this promises to be one of Company 29's funniest shows yet.  Rock and Roll is a character driven sketch show entirely based around a beautiful traditional "American" art form - Rock & Roll.
Company 29 is the Magnet Theater's sketch company in residence, dedicated to producing new and original sketch comedy featuring the Magnet's best sketch writers and performers.  Featuring:  Mike Barry, Kevin Cobbs, Nick Kannellis, Ruby Marez, Justin Peters, Lauren Olson, Rachel Rauch, Jamaal Sedayao, Jason Scott Quinn, and Rob Williams.  Written By: Kevin Cobbs, Mike Barry, Tim Eberle, Sarah Pappalardo and Jed Teres.  Directed By: Nick Benaquista and Assistant Directed By:  Amanda Ariel Peggy Xeller.
RESERVATIONS:
Friday, September 21st at 7:00 P.M.
Saturday, September 22nd at 7:30 P.M.
Sunday, September 23rd at 8:00 P.M.
Sponsored by SixPoint Brewery.
Tags:
actors
,
comedy
,
Company 29
,
freedom
,
funny
,
magnet theater
,
rock and Roll
,
sixpoint brewery
,
sketch
,
sponsored
,
the best
,
war
,
writers