ANNOUNCING NEW MAGNET SKETCH TEAMS!!!!
Improv Monday August 20, 2012, 11:31am - by Magnet Theater
---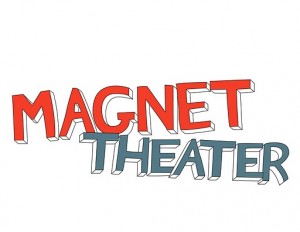 Congratulations to the new Magnet Sketch Teams!  Magnet Sketch Teams are the sketch comedy equivalent of Megawatt, our house improv teams. Sketch Teams are groups of writers and performers who will work with directors to create a run of sketch shows.   Thank you to all those who applied, we're excited to introduce these incredible teams! The first show is Sunday September 16th at 9:30!  See you there!
TEAM LEONARDO
Ruby Marez
Lisa Herring
Alex Marino
Phoebe Tyers
Todd Shaeffer
Adam Twitchell
Ingrid Ostby
Bob Kern
Steph Garcia
TEAM RAPHAEL
Willy Appelman
Kim Ferguson
Vince Milosevich
Stephanie Streisand
Alan Fessenden
Sarah Pappalardo
Joe Miles
Sean Taylor
Andrew Vuilleumier
TEAM DONATELLO
Emily Shapiro
Jim Turner
Branson Reese
Nivea Serrao
David Rynn
Nick Feitel
Kaitlin Fontana
Geri Cole
Jon Moisan
TEAM MICHELANGELO
Jane Stolar
Gretchen Poole
Jana Schmieding
Ben Kharakh
Matt Antonucci
Danielle Tolley
Lauren Olsen
Joe Lepore
Matt Wassung