Recap Of Last Week's The Weave!
Improv Wednesday August 8, 2012, 9:23am - by Magnet Theater
---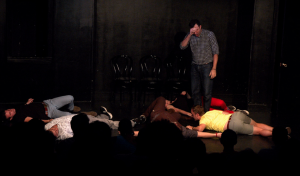 The latest installment of The Director's Series, directed by Rick Andrews, opened last Thursday to a loving Magnet audience!  The Weave, the 7th installment of The Director's Series, is a "rule-less" form that encourages organic improvisation in two parts.  The cast did a wonderful job of incorporating the suggestion into a string of organically found scenes.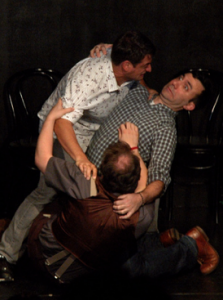 The show started with a trio taking on the mythical tales of "Ernesto", a mysterious wise old man.  It then transformed into a physical game, in which two brute doctor's are trying to save a man's life. The scene continues until they were transfused into an entirely different set of circumstances from the other trio.  The six players found themselves onstage, slowly dying from a gas leak.  This quickly became a scene about a love triangle which transformed into Olympic Gold Medal winners.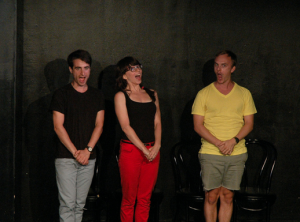 The show continued, weaving (sorry) in and out of different scenes, only to call back what was necessary.  It ended, like all shows should end, with a backflip.
The Weave continues this Thursday at 10pm at The Magnet Theater, and continues every thursday at 10pm for the month of August.  Make sure to catch a performance before it's took late!