LADIES NIGHT Comes To The Magnet!
Improv Wednesday August 8, 2012, 3:41pm - by Magnet Theater
---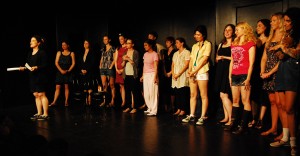 Saturday, July 28th marked the Magnet Theater's second Ladies Night. From 7pm - 11:30pm the stage was set for only those with X chromosomes. Hosted by Magnet's Artistic Director Megan Gray and Registrar Kim Ferguson, the shows featured over 50 female performers from all over the city, improvising, reciting poetry and putting on a sketch show.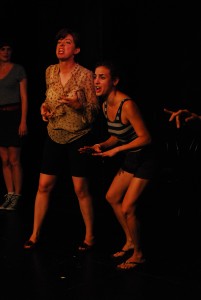 The 7 & 8pm blocks featured female improvisers from Magnet, The PIT and UCB, in mixed combinations you have probably never seen before (except in your dreams). The Magnet was packed to capacity, as 9pm brought a special :Kiss*Punch*Poem: Ladies Night edition -- all female poets and all female improvisers.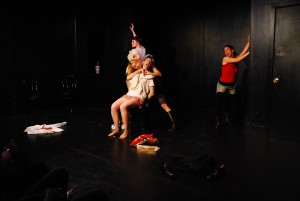 Finally, 10:30pm marked the Lady Sketch Show. Directed by Beth Newell, the show featured over 20 actresses, performing sketches written by 8 female writers. Over the past 6 weeks, all of the ladies of the Lady Sketch Lab have been working tirelessly, writing, rewriting, and blocking until it reached ultimate perfection. If you missed this life-changing sketch show, return to the Magnet Saturday, August 25th at 7:30pm to see a special encore performance.  It was a great evening, with great shows, see you next Ladies Night!