There's No Place Like Home: A GLBTQ Event January 16th
Events, Improv Friday January 13, 2012, 1:33pm - by Magnet Theater
---
Home is Where the Heart Is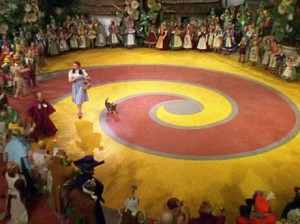 It started with one show. Back in June, the Magnet Theater was kind enough to host a "Gay Pride Show" in honor of New York's Gay Pride Celebration. Louie Pearlman along with Roman Rimer organized a one-hour show featuring indie comedy band Thin Skin Johnny and a few select GLBTQ improvisers to join in on the fun.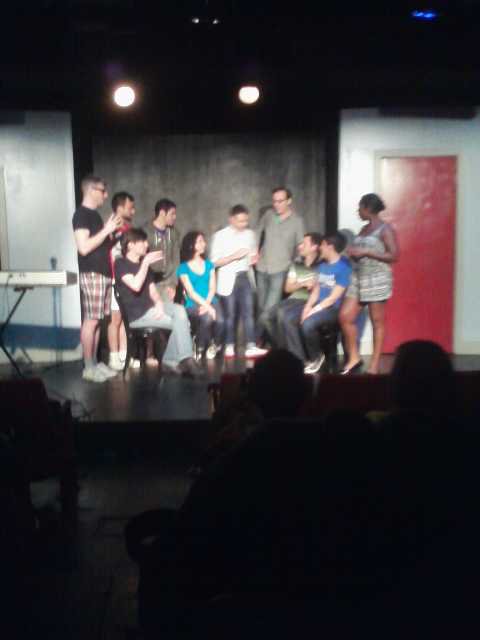 Gay Pride Celebration Show, last summer. The show was a success and delightfully refreshing for an audience that is used to a particular slant in comedy. People left the Magnet asking, "So when's the next one going to be?" And "more queer improv please!"
Cut to a few months later when a group of four gay improvisers from the Magnet met together for a Sunday brunch. That meet-up soon turned into a bar night or two, margarita night at one's apartment, and soon we were inviting more queer improvisers to join us for our nights out. We wanted to reach out to new people coming up and into improv and the comedy community much like the way the Magnet welcomed us with open arms.
After the success of Megan Gray's We Just Might Kiss and Ladies' Night events, I had the idea to bring a similar type of show to the Magnet. I pitched the idea for a show with a rotating cast that would welcome seasoned and newer talent with a GLBTQ perspective. I wanted to create a show/space where these improvisers felt safe. They could tackle scenes how they wanted to or do the scenes they always wanted to do. I reached out to top performers at the other improv theaters to join us and strengthen our new family. Welcome to "There's No Place Like Home: A GLBTQ Event".
This is a one-hour show that will feature two teams of GLBTQ improvisers from all three of the big improv theaters here in New York.  They will create scenes and characters based off of a single suggestion filtered through a rotating guest monologist who will share stories and personal anecdotes.
Yes the title comes from "The Wizard of Oz", a cinematic classic featuring a gay icon, but I picked the title because really there was no better way to describe the show. For many of us queer improvisers, we left our homes in small towns afraid to be ourselves or tell our families about the people we loved. We ran not walked to the big city in the hopes of a better life, and we survived with wit and humor. New York was our Emerald City, a sparkling oasis full of magic and wonder where we could really be ourselves. Yes our show is a "Gay Show", but it's also a celebration of so much that has come before us, what we've had to struggle through, and the brighter future ahead of us. Many of us have found a new home in New York and especially at the Magnet Theater. We hope you'll make the Magnet your home at on Monday the 16th with more shows in the works.  Join us for a couple of laughs, some drinks, and maybe some catty jokes about Lindsay Lohan.
Andrew Fafoutakis is an actor, singer, and writer currently living in New York. He performs as part of Musical Megawatt at the Magnet Theater with his team Mint Condition.