Friars Club Short Film Festival
Events, Video Friday October 14, 2011, 3:34am - by admin
---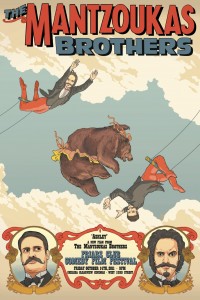 The Mantzoukas Brothers (Jason Mantzoukas and Ed Herbstman) made a short film that will premiere at this year's Friars Club Comedy Film Festival.
Their film, 'Ashley', premieres tomorrow night, Friday October 14th night at 9pm at Chelsea Clearview Cinemas on 23rd street.
Will The Mantzoukas Brothers' close friendship survive when Jason gets a new girlfriend? Spoiler alert: no fucking way.
Also appearing in the film are Magnet performers Melanie Hoopes, Charlotte Rabbe, Teddy Shivers, Joel Jones, Leanne Linsky, Desiree Nash, Joe Miles, Binu Paulose, Ruby Marez, Louis Kornfeld, and Megan Gray.