Gay Bomb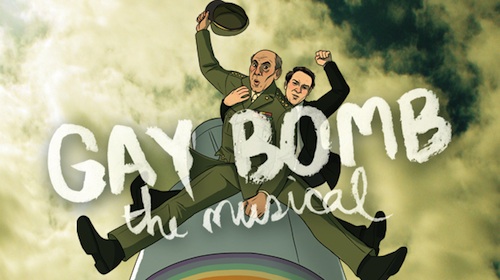 About the Show
GAY BOMB is a musical comedy inspired by the real life plans of the U.S. military to build a bomb that would make their enemies gay. The show is a cautionary tale set in a not-to-distant America that is a "xenophobic, homophobic wet dream." This timely political piece is not only topical but extremely on point, leaving no stereotype unscathed.
Directed by Michael Martin, with music by Frank Spitznagel and book and lyrics by Chris Friden and Steve Whyte.
Starring: Andrew Fafoutakis, Dreagn Foltz, Ben Jones, Michael Lutton, Jen Sanders, TJ Mannix, Oscar Montoya, Dave Tomczak and Woody Fu
click here to buy tickets!
Magnet Theater
254 West 29th St.
New York
NY
10001