New Fall 2018 Megawatt Teams & Additions Announced!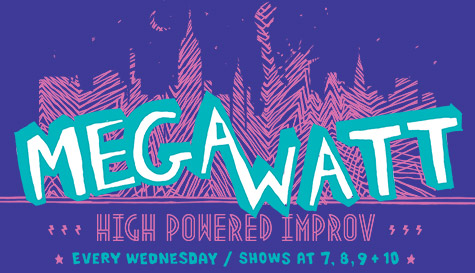 Megawatt Monday September 10, 2018, 5:30pm - by Magnet Theater
---
Magnet Theater is pleased to announce the new teams and additions for the Fall 2018 season of Megawatt, debuting this Wednesday, September 12th, at 7, 8, 9  and 10:15 pm. We hope to see you there!
Names in bold are new to Megawatt. Names with an asterisk* are returning to Megawatt. Names in italics are joining a preexisting team.
NEW TEAM PECORINO
Janelle Bentley
Alex Braslavsky
Hillary Dale
Jason Farr
Jonathan Fuchs
Alex Kornfeld
Amanda Rothman
Jessica Rowley
NEW TEAM BRIE
Keith DiRienzo
Fu Goto
Valete Graham
Jeremy Gundel
Michael McLarnon*
Robin McNamara
Mel Rubin*
Veronica Venture
New members have also been added to several existing teams:
SCOUT
Matt Abedi
Kim Brown
Molly Kiernan
Ian O'Keeffe
Devin O'Neill
Adam Pasulka
Tom Sanchez
Dede Tabak
SHE WOLF
Justin Anderson
Chris De La Cruz
Ali Fisher
Princess Gibbs
Teis Jorgensen
Ellen Matthews
Abby Russell
Emily Shapiro
Justin Torres
METAL BOY
Sulaiman Beg
Maggie Bower
Nolan Constantino
Woody Fu
Chrissie Gruebel
Eli Itzkowitz
Pat May
Matt Shafeek
SEXY BABY
Katy Berry
Spencer Campbell
Christina Dabney
Tim Dufrisne
Eleanor Lewis
Rob Penty
Fred Urfer
Derrence Washington
Kyle Gordon
Erin Nebel