Announcing the Fall 2017 Magnet Sketch Teams!
Sketch Wednesday August 16, 2017, 11:50pm - by Megan Gray
---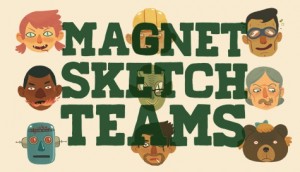 Congratulations to the newest Magnet Sketch Teams and the newest additions to Just Karen, Nitro Girls, Chillionaire and The Executives! Thanks to everyone who submitted and auditioned this round. Here's to a brand new season of killer comedy, premiering on Monday, September 11th, 7:30pm.
Italicized = new to program
* = new to existing team
+ = promoted to writer/performer
Just Karen - Directed by Matt Alspaugh*
Devin O'Neill +
Kristina Grosspietsch
Morgan Pelligrino
Keith Rubin
Dennis Pacheco
David Fried
Bailey Swilley
Carly Silverman
Elie Stav
Tom Sanchez*
Chillionaire - Directed by Michael Delisle
Duaa Osman
Tanyika Carey
Molly Kiernan
Kate Shine
Kourtni Bebe
Francis Fuster
Greg Cornejo
Skyler Swezy
Nick Wiener*
Brendan Goggins*
Nitro Girls - Directed by Chris Hastings
Sam Rogal
Jesse Mudrick
Justin Morgan
Lanee Sanders
John Ross
Amy Lynn Berger
Alex Braslavsky
Joe Lepore
Chelsea Frei
Leanne Velednitski
Team Bill S. Preston Esquire - Directed by Jesse Acini
Matt Wassung
Diego Martinez
Chloe Lewis
Lorena Russi +
Jennette Cronk
Billy Soco
Zach Kamin
Lauren Overpack
Zackery Stephens
Caroline Castro
Team Ted Theodore Logan - Directed By Chrissie Gruebel
Karina Sahlin
Daniel Louis Sgrizzi
Sarah Cassell
Kyle Levenick
Matt Abedi
Chris Wade
Yoshi Saito
John Graham
Shelley Little
Rachel Robertson
Team Rufus - Directed by Nat Silverman
Katie Sicking
Matt Morea
Patrick Grizzard
Lauren Faylor
Rob Webber
Gina Cucci
Jackie Skinner
Matt Brooks
Alyssa Lott
Annemarie Cullen
Dinosaur Jones - Directed by Joe Lepore
Matt Alspaugh
Nat Silverman
Hayley Karl
Rich Rosario
Ben Koch
Anna Neu
Becca Schall
Jessica Taylor
The Executives - Directed By Kevin Cobbs
Ari Miller
Elena Skopetos*
Evan Forde Barden
Bryan Berlin
Charlie Nicholson
Lane Kwederis
Meredith Burns
Sara Kalkstien*
Kristen Loe*