EXTENDED: $50 off! 12th Anniversary Sale
Celebration, Classes Tuesday August 1, 2017, 12:01am - by Magnet Theater
---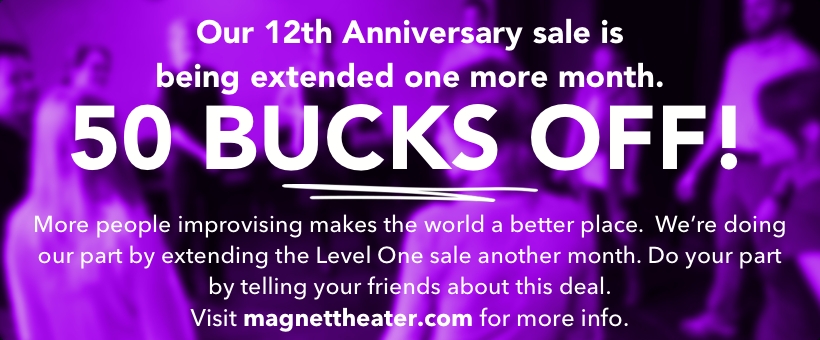 Sign up for Level One and get $50 off!
It's the classic 12th Anniversary gift - $50 bucks off.
This sale is for all Level One classes. That includes Improv, Musical Improv, and Sketch Writing. Sign up for all three and save $150. Or sign up for 10 of them and save $500. Unreasonable? Hell yes. But signing up for one is not only not unreasonable – it's smart! Save money while falling in love with the most inspiring creative pursuit you can imagine. And while gaining skills that just might change your life.
When we began our theater in 2005, we never knew we'd grow into an organization with 250 performers, 22 teachers, and 80 million students annually. We tried not to, but it happened anyway. We started with Armando Diaz teaching one improv workshop and now we offer comprehensive training in improv, musical improv, sketch writing, storytelling and more. We think that studying with Magnet instructors is simply one of the best ways to improve your comedy, your art, your relationships, and your life.
That's why we're offering $50 off any Level One class (improv, musical improv, sketch comedy) when you register now. Our normally priced $399 classes are now $349. We've the same sale all summer and so many people took advantage of it, that we wanted to keep the good times rolling. We know that our entire community benefits from more people improvising and we want to make it as easy as possible to get started.
To view classes currently enrolling, click on the appropriate link below:
Our Level One Improv and Musical Improv classes are eight sessions with an additional graduation show at the end (no grad show for the sketch class, but it's still amazing).  And as always, free Intro to Improv classes are also available on a regular basis. Click here for details.
Happy Anniversary!