Thursday Night Price Skyrockets To $10!
Thursday Night Out Tuesday April 29, 2014, 12:05pm - by Magnet Theater
---
[caption id="attachment_3610" align="alignleft" width="300"]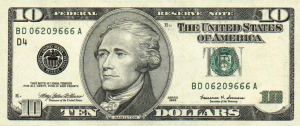 ten bucks[/caption]
Starting in May, The Magnet Theater is going to raise the price of Thursday Night Out to $10. That price will still allow audience members to stay all night. If someone is coming strictly for Inspirado, the price will remain $7.  We're incredibly proud of the work being done on this night and feel confident in showcasing it as some of the best work we have to offer.  Magnet students and performers will still be able to get into the show for free.