The Latest Manifestation of Thursday Nights – The Revovler
Thursday Night Out Thursday July 18, 2013, 12:24pm - by Charlie Whitcroft
---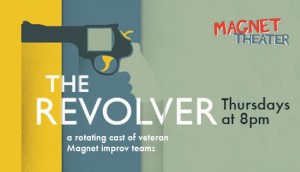 If you've never seen Junior Varsity, Hello Laser, or The Boss perform at the Magnet Theater, I'm guessing you've had some longstanding obligation on Thursday nights for the last several years.
They're the Magnet Theater's longest standing, longest standing teams - veterans who've been performing high quality improv together for almost seven years. That's a length of time most people can't even wrap their heads around in this ever-more present-focused world of ours.

Now they're loading themselves up into chambers randomly (not really randomly... there's a set schedule) for a weekly round of Russian Roulette known as The Revolver. Each week you'll see two of these teams perform, each in their own unique and seasoned styles.
Come out and see them, every Thursday Night at 8pm.
Then talk to them afterwards. Being around so long, they have stories to tell.
Tags:
comedy
,
hello laser
,
Improv
,
junior varsity
,
longest standing
,
magnet theater
,
new york city
,
oldest
,
PIT
,
revolver
,
the boss
,
UCB
,
veteran