BEEES!!! Two-Year Anniversary Show!
Celebration, Musical Improv, Musical Megawatt Wednesday March 27, 2013, 12:51pm - by catherinewing
---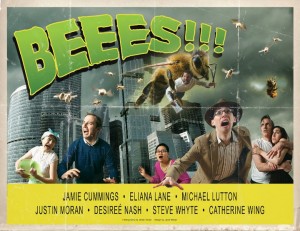 BEEES!!! turned 2 earlier this year! They are celebrating with a Two-Year Anniversary Show this Friday, March 29th, at 7pm, and you are all invited!
Formed in late December 2010, BEEES!!! gathered for the first time as a team at Mooncake, a few doors down from the Magnet Training Center.  Over dinner and cheap Sapporo beers, they got better acquainted with one another.  Some had taken the Magnet musical improv classes together, and were nervous and excited to be placed on their very first house team; others were seasoned performers, with years of improv and stage experience under their belts.  What they all had in common, was their musical improv training under the brilliant Tara Copeland and Frank Spitznagel.  BEEES!!! hit the Magnet stage for their first show on Tuesday, January 4th, 2011.
[caption id="attachment_2841" align="aligncenter" width="640"]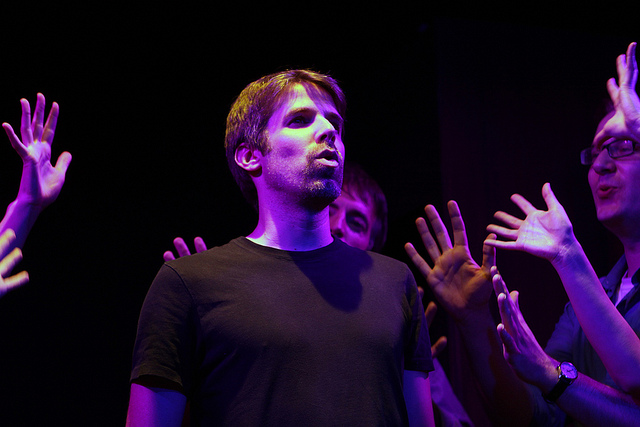 The meta show, November 2011. Photo by Keith Huang.[/caption]
(Team Trivia: Michael Lutton came up with the team name, which won the majority of the votes, over gems such as "7 O'Clock," "The Richard Cheddar Show," and "Employee of the Month.")
[caption id="attachment_2842" align="aligncenter" width="640"]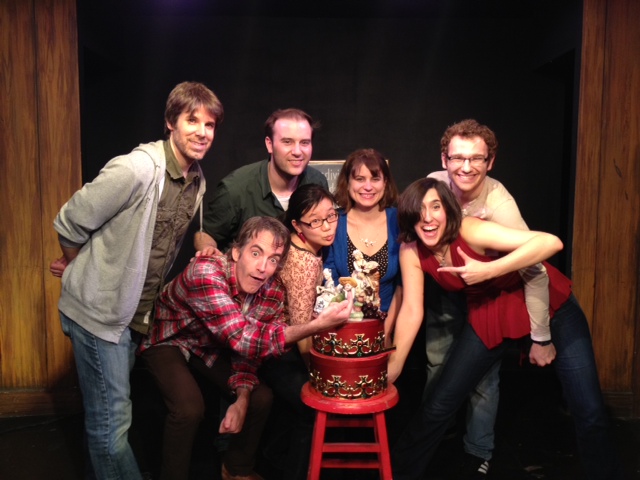 Inspirado winners! Dumb challenge ("Beethoven"), February 2012[/caption]
Since then, BEEES!!! has performed regularly on Magnet Musical Tuesdays, survived two hurricanes (Irene and Sandy), won five Inspirado challenges, and performed in theaters and improv festivals throughout NYC and along the East Coast, including The Depot Theatre, Boston Comedy Arts Festival, North Carolina Comedy Arts Festival, NYC Improv Festival, and the New York Musical Improv Festival.
[caption id="attachment_2826" align="aligncenter" width="274"]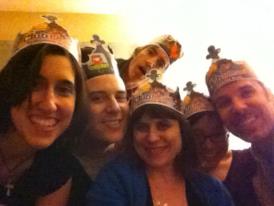 Harold Night at ImprovBoston, March 2012[/caption]
[caption id="attachment_2825" align="aligncenter" width="206"]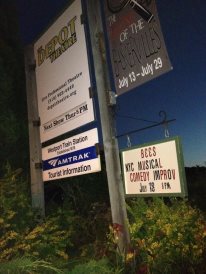 The Depot Theatre in Westport, NY, July 2012.[/caption]
BEEES!!! is happy and proud to call the Magnet Theater home. Come this Friday, March 29th, at 7pm and join them in celebrating 2 years of making beautiful musical improv together.
[caption id="attachment_2824" align="aligncenter" width="333"]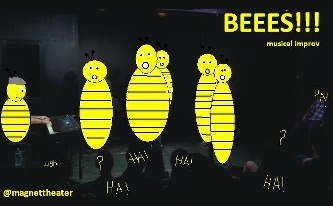 The BEEES!!! opening, artistically rendered by Desireé Nash[/caption]
BEEES!!! is: Jamie Cummings, Michael Lutton, Desireé Nash, Steve Whyte, Catherine Wing.
[caption id="attachment_2829" align="aligncenter" width="640"]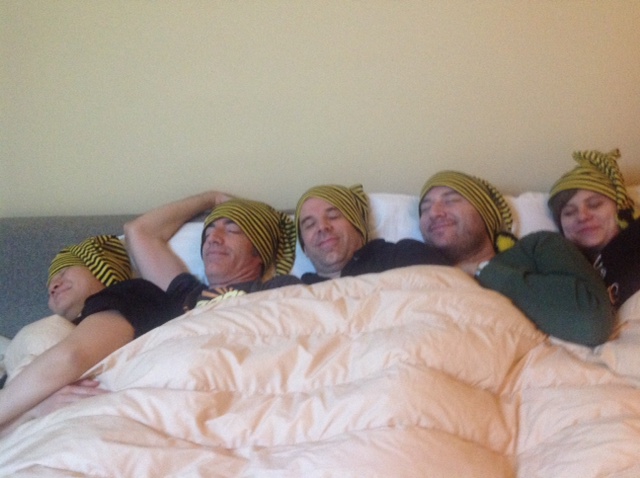 Sleepytime at Chateau Whyte, North Carolina Comedy Arts Festival, February 2013.[/caption]