GAY BOMB: THE MUSICAL Closing Night
Shows Thursday June 28, 2012, 1:25pm - by catherinewing
---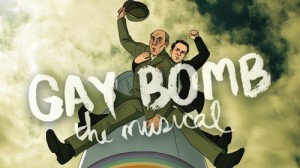 GAY BOMB: THE MUSICAL will be having its final show this Friday night, June 29th at 8:30pm at the Magnet Theater.  Tickets are going fast, so get them now before the show sells out!  Psssst ... if you want discount tickets for $7, use the code "POTUS Felching" when you buy your tickets HERE.
Directed by Michael Martin, with music by Frank Spitznagel.  Book and lyrics by Chris Friden and Steve Whyte.
Starring: Andrew Fafoutakis, Dreagn Foltz, Ben Jones, Michael Lutton, Jen Sanders, TJ Mannix, Oscar Montoya, Dave Tomczak and Woody Fu.
In case you've missed the earlier installments of the Magnet Blog's interview with GAY BOMB co-writer, Steve Whyte, here they are: Part 1 and Part 2.  And now, our third and final installment of the interview.
Magnet Blog:  Did you do comedy in college?  What did you study/major in?
Steve Whyte:  I didn't really do any comedy in college. I emcee'd events which involved a smidgeon of comedy — the cheesy kind that one might have found in a resort in the Poconos in the 1950s.  I majored in Linguistics at UC Berkeley (Go Bears!).  No, I don't speak any other languages, but I can get around in Mexico, and in Mandarin, I can count to ten and say "I'm a crazy American."  But really I spent the majority of my time playing in the student Jazz Ensembles where I played drums in various combos and big bands.  And after college I stayed in the music business, playing at clubs, weddings, lounges, etc., until Chris and I started our goofy, college sports TV show, "Out of Bounds" on SportsChannel National (now FoxSports).  We managed to win an Emmy, though Jamie Cummings will point out that it's a regional Emmy, and that the local weather man probably had a down year.
MB:  Who or what are your comedic influences?
SW:  I'm a sucker for satire.  Bill Maher, The Daily Show, Parker and Stone (South Park, Book of Mormon), Stephen Colbert, Janeane Garofalo, Bill Hicks, the Tea Baggers, and many others.
SW:  For me, when I'm doing improv, or playing drums, I usually get relief from the OCD.  Those are usually the rare times it seems to disappear—only to come roaring back once the show is over. I heard this is sometimes the case for Tourette's sufferers -- their tics stop while they're involved in their performance. On the other hand, my OCD experiences provide a wealth of material to draw upon. I guess there's lots of comedy to be found in being totally freaked out and paralyzed by everyday shit.
MB:  Any future projects in the works now?
SW:  Chris and I are working on a couple of other projects.  One takes place in the not-too-distant future, where people have to rent a mechanical penis from the government in order to procreate and/or have sexual experiences that require a phallus.  Males have their biological penises removed at birth.  All seems normal in society until an adult male shows up with a flesh penis.  Wackiness ensues.
Thanks, Steve!  You are all warmly invited to join the cast and crew of GAY BOMB  at the Closing Night party after the show on Friday, at 10pm at
Smithfield
, 215 W. 28th Street.  See you there!
Tags:
advice
,
andrew fafoutakis
,
Ben Jones
,
Catherine Wing
,
Chris Friden
,
comedy writing
,
Dave Tomczak
,
Dreagn Foltz
,
Frank Spitznagel
,
Gay Bomb
,
interview
,
Jen Sanders
,
Michael Lutton
,
Michael Martin
,
military
,
Musical
,
obsessive compulsive disorder
,
OCD
,
Oscar Montoya
,
steve whyte
,
t.j. mannix
,
woody fu