Company 29 Presents: America!
Preview, Sketch Thursday May 17, 2012, 12:33pm - by catherinewing
---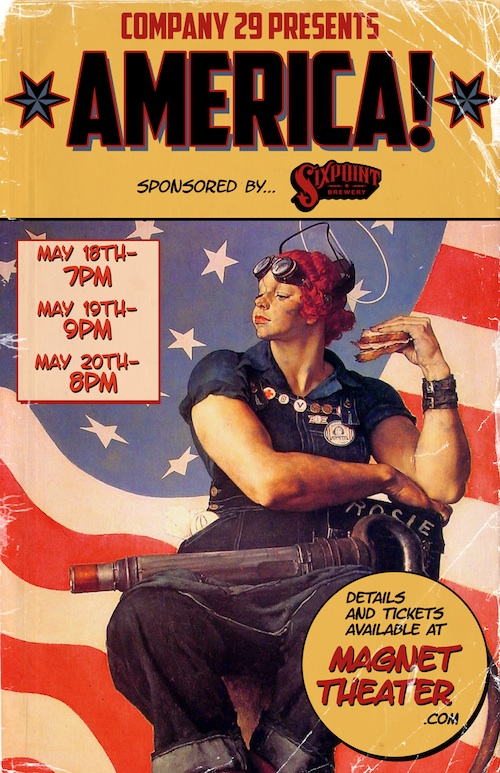 The second show of the Magnet Theater's sketch company-in-residence, "America!" will introduce you to characters that will take you on a journey through our national psyche, and explore the people and things that define and inform our American-ness.  Like baseball.  And Ira Glass.  And immigrants.
So unfurl your flags and crack open a cold Sixpoint beer: opening night of "Company 29: America!" is coming your way this Friday, May 18th, at 7pm at the Magnet Theater.
Dedicated to producing new and original sketch comedy shows on a continual basis, Company 29 consists of the Magnet's strongest writers, performers and directors. The goal of Company 29 is to create character-driven, thematically cohesive sketch shows with a unique voice.
Sponsored by: Sixpoint Brewery
These are the writers and performers of America!:
Written By: Paul Barker (Horses, Dumbkowsky), Kevin Cobbs (Listen, Kid!), Tim Eberle (Brick, Alchemy), Amanda Hirsch (Think Improv), Beth Newell (Kiss*Punch*Poem, Dumbkowsky), and Jamaal Sedayao (Brick, Turboner Bigote).
Featuring: Mike Barry (Lead McEnroe), Kevin Cobbs (Listen, Kid!), Ruby Marez (Aquarius), Lauren Olson (Chet Watkins), Christian Paluck (Chet Watkins), Justin Peters (Chet Watkins), Rachel Rauch (Leviathan), Jamaal Sedayao (Brick), Jason Scott Quinn (Silver Fox), and Ross Taylor (Aquarius, The Wrath).
Directed By: Nick Benaquista (Lead McEnroe)
Showtimes:
Fri May 18th, 2012, 7:00pm
Sat May 19th, 2012, 9:00pm
Sun May 20th, 2012, 8:00pm
The Magnet Blog interviewed Company 29 Head Writer, Tim Eberle, to get the inside scoop on Company 29 and how the group prepares for their shows.
[caption id="attachment_2120" align="alignleft" width="300" caption="Head Writer Tim Eberle with the cast of Company 29"]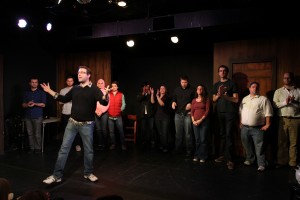 [/caption]
Magnet Blog:  How is Company 29 structured differently from how sketch groups are usually structured?
Tim Eberle:  Company 29 is really structured more like a resident theater company than a sketch group; we're made up of a writing team, performance, troupe, lighting/sound designer, and directing team. The idea behind the group has always been to bring all of these different aspects together to create full, unique, and cohesive sketch shows, based around a single idea or theme. The scripts are generally character-based and written for specific performers, who work with our director and tech team throughout the rehearsal process to bring the scenes to life in the most engaging way possible. It leads to a "the whole is greater than the total sum of its parts" situation, and really showcases the different talents floating around the Magnet.
MB:  Do the actors write, or the writers act?  Are directors part of the group, or do they rotate/change for each show?
TE:  We definitely have a couple of writer/performers in the group, especially Jamaal Sedayao and Kevin Cobbs. They're great because they know how to write so well for themselves as well as the other actors in the group. And Jamaal can pull from his Brazilian (I think?) background to give the show some diversity. We have one director (Nick Benaquista) who directs all the Company 29 shows. It's a big asset having Nick direct multiple shows because he's developed a great sense for the different writing and performance styles we have, and he can use that when he's working to build beats and work on characters in rehearsals.
MB:  What is the writing process?
TE:  When we first start working on a new show, the writers will get together to pitch ideas for a theme or structure to the show (like setting the whole show in the world of a public school, as we did with PS2012). Once we've settled on the theme, we'll starting pitching sketch ideas or looking at sketches that people have that could potentially work for the show, and discuss which actors would be the best to play which parts. Over the next few we'll work as a group pitching jokes, editing the sketches, and tweaking the material to make it work for the actors. So it's collaborative in that sense, but the onus is really on the individual writers to own their material. We don't write too many sketches together as a group, but we all work together to make sure the sketches work for the show we want to put on. Once we have enough material, we'll choose the sketches we want to use in the show, put together the running order, and all that good stuff.
MB:  What's the timeline of putting a show together, from conception to show time?
TE:  Usually about 2 months. We like to have about three weeks to write and edit and then a little over a month for rehearsals, since scheduling rehearsals for a cast this big and this busy is obviously difficult, and we want to have enough rehearsals for each sketch.
MB:  Was there anything you learned In the process of putting together the first Company 29 show, that you decided to do differently for this upcoming show?
TE:  We're not going to do the character bits that we did with PS2012 this time around.  They were funny as character pieces in the last show, but they disrupted the flow of the whole piece.  This time, we're following a more standard sketch revue structure.
MB:  Will there be rolling auditions/submission invitations for folks who are interested in joining Company 29?
TE:  We've had the same cast for the last two shows, and they're fantastic.  We don't have any plans to hold big auditions in the near future, but we're always looking to add people here and there. We brought Justin Peters on for this show because we needed someone to play a racist ex-minor-league baseball player, which seemed right in his wheelhouse. We're bringing on a couple of new writers for the next show as well, and are always looking for more sketch-writers who like the style of sketch that we do.
MB:  Why "America!"?
TE:  The idea really came from the fact that for a little while we thought about doing a political theme for the next show. The more we batted the idea around, the more sketch ideas came up that centered on general Americana, beyond just politics. It seemed like a really fun and relatable theme to play with, so that's where we went. We ended up with sketches about Ellis Island, Johnny Appleseed, Ira Glass, Kenyan marathon runners, and, interestingly enough, nothing about politics. Which is probably for the best. I don't think anyone really likes political sketch comedy. Not enough silly voices.
Thanks, Tim!
[caption id="attachment_2121" align="alignleft" width="300" caption="The audience enjoying the show and the Sixpoint brews."]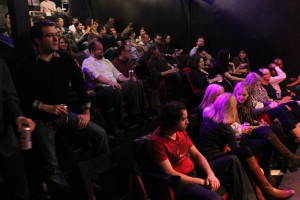 [/caption]
Company 29 is proud to be sponsored by Sixpoint Craft Ales. Based in Brooklyn, Sixpoint is an innovative craft brewery that makes bold and delicious beers. It is also committed to supporting local creative endeavors, and Company 29 is thrilled to have them as a sponsor. For all you craft beer lovers, Sixpoint is having beer specials at the Magnet for opening night on Friday. Drink up and enjoy the show!
Photos: M.Woody Fu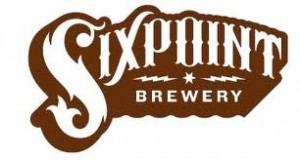 Tags:
Amanda Hirsch
,
America
,
Beth Newell
,
Brewery
,
Catherine Wing
,
Character
,
christian paluck
,
Company 29
,
Company-in-residence
,
Craft Beer
,
interview
,
Jamaal Sedayao
,
jason scott quinn
,
justin peters
,
Kevin Cobbs
,
lauren olson
,
Mike Barry
,
Nick Benaquista
,
nick kanellis
,
Opening Night
,
Paul Barker
,
peter mcnerney
,
Rachel Rauch
,
Ross Taylor
,
ruby marez
,
Sixpoint
,
sketch
,
sketch show
,
Sponsor
,
Tim Eberle
,
willy appelman