GAY BOMB: THE MUSICAL! Part 2 of Interview with Co-Writer, Steve Whyte
Ideas, Performers, Shows Friday May 11, 2012, 12:43pm - by catherinewing
---
GAY BOMB: THE MUSICAL opened to a sold-out crowd last Friday, May 4th. The plot was full of twists and turns that we cannot divulge, and the action was so hot that we were unable to obtain pictures of the show from the actual opening night. Instead, an anonymous source supplied us with clandestine photos from a secret GAY BOMB dress rehearsal.
[caption id="attachment_2093" align="aligncenter" width="300" caption="Totally straight baseball players teach us how to slap that ass."]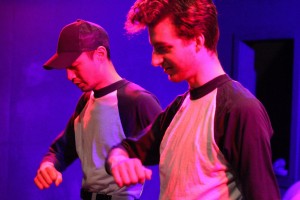 [/caption]
[caption id="attachment_2092" align="aligncenter" width="300" caption="To Gay Bomb, or not to Gay Bomb?"]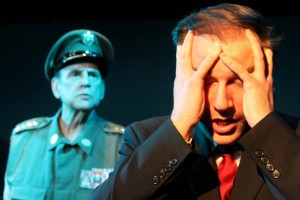 [/caption]
[caption id="attachment_2091" align="aligncenter" width="300" caption="A pivotal and intimate moment"]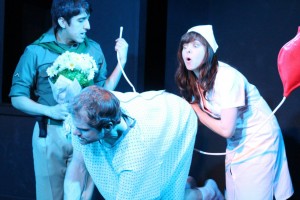 [/caption]
Here is Part 2 of my interview with GAY BOMB: THE MUSICAL co-writer, Steve Whyte.
Magnet Blog:  How do you and your co-writer, Chris Friden, know each other?
Steve Whyte:  Chris and I met at UC-Berkeley. A couple of years after we graduated, we started a weekly comedy/sports TV show on Cal Football and Basketball. It ended up getting picked up by SportsChannel (now FoxSports), and going national. We ran for three years and won an Emmy, and since then we've both been involved in various aspects of video production.
MB:  Did you find that your musical improv skills came in handy while writing Gay Bomb?
SW:  Absolutely. I think it definitely guided the rewriting of the screenplay to fit the musical format. Additionally, before we started the rewrite, we ran several improv sessions with members of the cast. Almost everybody in the cast has come up through all of the Magnet's musical improv classes. So improvising both scenes and songs was something that comes naturally to them, and something that they do every week. It was helpful to see what elements might work well by improvising them first, before sitting down to do the rewrite. It also gave the actors time to get familiar with their characters, so that they had a head start in that department when finally getting a chance to work with the book.
MB:  Neither you nor your co-writer, Chris, identify as LGBTQ. As straight allies, what compelled you two to write GAY BOMB?
SW:  Being a white, straight male, try as I may, I have no idea what it's like to deal with the injustices that others go through on a daily basis. While both Chris and I have close family members and friends who are LGBTQ, and we try our best to empathize, we don't truly know what it's like to experience life as an oppressed minority in a prejudiced society. However, I don't think that should stop one from trying, and I certainly don't think it should stop one from speaking out and doing what they can to address these faults in society.
With regards to casting, I cast the people that I thought would fit the roles best, and who were exceptionally funny and talented. There was no thought put into trying to cast all straight or all gay or a certain percentage mix of cast members. As it turns out, I think our cast is close to 50/50. I think it has been nice to have this mix of performers, as it provides helpful feedback and input for the piece from various viewpoints. Interestingly, four of our gay actors play straight characters, and at least two of our straight actors play gay characters. At the end of the day, it's a bunch of funny, talented improvisers who have been performing together at the Magnet for years, and who are just looking to put on a fun, funny, entertaining, and perhaps even meaningful show.
Thanks, Steve!  We'd like to think that GAY BOMB was one reason why President Obama finally decided to support marriage equality. Go, President Obama!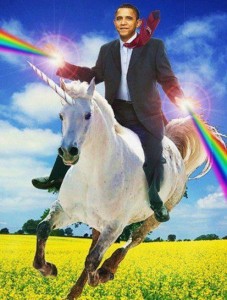 Catch GAY BOMB on select Mondays and Fridays in May and June at 8:30pm. Tickets can be purchased here. Use the code "POTUS Felching" to get half off the regular ticket price, for all shows, including tonight's! The code is only good for today, so buy those cheap tickets now!
Fridays: 5/11, 5/18, 5/25, 6/15, 6/22, 6/29
Mondays: 5/21, 6/11, 6/18
Directed by Michael Martin, with music by Frank Spitznagel, and book and lyrics by Chris Friden and Steve Whyte. Starring Andrew Fafoutakis, Dreagn Foltz, Ben Jones, Michael Lutton, Jen Sanders, T.J. Mannix, Oscar Montoya, Dave Tomczak and Woody Fu.
If you are unable to attend the show, or wish to offer continued support, please consider donating to the GAY BOMB kickstarter fundraiser. The creators of the show have accrued significant debt to put this show together, for set design, costumes, rehearsal space, and many other necessities that arise as the show continues its run. The hope is to raise $2,000 more dollars in a week, for a total of $7,000. Please go to the GAY BOMB kickstarter page for more information on the excellent pledge perks.
Stay tuned for the next installment of my interview with Steve Whyte!
Photo credits: Steve Whyte and Woody Fu