Preview: GAY BOMB: THE MUSICAL
Ideas, Preview Friday May 4, 2012, 11:22am - by catherinewing
---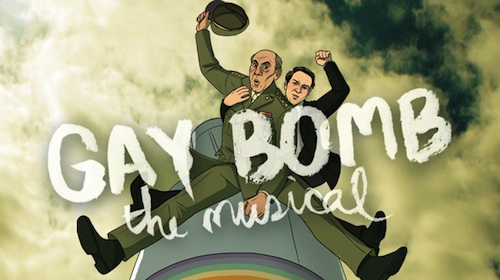 GAY BOMB: THE MUSICAL is landing on the Magnet Theater, with only a few seats left for this highly anticipated opening night tonight! Directed by Michael Martin, with music by Frank Spitznagel, and book and lyrics by Chris Friden and Steve Whyte, this musical comedy is inspired by an actual proposal by the U.S. military (in 1994!) to build a bomb that would make America's enemies gay.
Starring Andrew Fafoutakis, Dreagn Foltz, Ben Jones, Michael Lutton, Jen Sanders, T.J. Mannix, Oscar Montoya, Dave Tomczak and Woody Fu, the show premieres tonight, and will run on select Mondays and Fridays in May and June at 8:30pm. Tickets can be purchased here.
Fridays: 5/4, 5/11, 5/18, 5/25, 6/15, 6/22, 6/29
Mondays: 5/21, 6/11, 6/18
Here is Part 1 of my interview with GAY BOMB: THE MUSICAL co-writer, Steve Whyte.
Magnet Blog:  What motivated you and your co-writer, Chris Friden, to create GAY BOMB?
Steve Whyte:  We often hear of absurd policies from our government, but this one really seemed special. It's simultaneously hilarious and sad. Sad that a room full of educated, grown men (no one knows who was in the room, but I would wager that, yes, they were probably all men) would have a set of values and beliefs that could allow the serious consideration of a "Gay Bomb." This didn't happen in the 1950s; this was 1994. Hilarious, I suppose, for the same reasons. It's low hanging fruit - easy to make fun of.  At the same time, it's an opportunity for some commentary about stereotyping, prejudice, politics, and power.
MB:  Have you and Chris ever written a musical before?
SW:  Neither of us have ever written a musical. We actually wrote a screenplay of GAY BOMB about a year ago, and then figured it would make a fun musical. I learned a lot about musicals and what makes them tick from the musical improv classes at the Magnet. Then, when we decided to do this, I read a shitload of books on the subject, took a "musical writers bootcamp" workshop at Davenport Theatrical, and bent the ear of fellow Magnet improviser and librettist Justin Moran (POPE!, Nightfall on Miranga Island).
MB:  Any advice for folks who might want to write their own musical, but don't know how to start?
SW:  My number one suggestion would be: Get help. Surround yourself with talented people. Be willing to give up control and have others help.
There are several books on the subject, a couple of which lay out the fundamentals pretty well. I found The Musical Theatre Writer's Survival Guide by David Spencer and Writing the Broadway Musical by Aaron Frankel to be particularly helpful. Watching and re-watching a lot of musicals helps, especially ones that resonate with you. For me, that's anything by Parker and Stone—Team America, Book of Mormon, the South Park movie (there are also several South Park episodes that are mini-musicals). And again, the musical improv classes also provide a great foundation in what moves a musical forward.
MB:  Any last words to end Part 1 of this interview, Steve?
SW:  We're honored that the Magnet has included us in their effort to showcase more scripted material at the theater. This production draws very heavily on the Magnet community. Everyone in the cast and crew has taken many classes here, and has been in many shows. Our director, Michael Martin, is the director of the musical improv program here along with Frank Spitznagel, who is our musical director and composer.
Please stay tuned to the Magnet blog for future installments of my interview with Steve. See you at Opening Night of GAY BOMB!  Stay for the after-party at Smithfield, the new bar at 215 West 28th Street!