The Director's Series Presents: The Subject – Opens May 3rd!
Improv, Opening Night Wednesday May 2, 2012, 11:22am - by WillyAppelman
---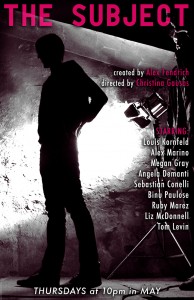 In the latest installment of The Director's Series, Christina Gausas takes the reins on The Subject.  The Subject is a form that  "follows the central character of the evening (the subject), never leaving the stage while the others enter and exit as various friends, relatives, demons and fantasy figures".
The Subject, created by Alex Fendrich, was originally performed at the iO theater in Chicago and was "Highly Recommended" by The Chicago Sun-Times.  Gausas was a member of the original cast and now she leads an all-star cast made up of Louis Kornfeld, Megan Gray, Alex Marino, Angela Demanti, Sebastian Connelli, Ruby Marez, Binu Paulose, Tom Levin, and Liz McDonnell.
The Subject opens Thursday May 3rd at 10pm, and is followed by an Opening Night Party at Mustang Sally's (28th & 7th).  Come to the show and celebrate afterwards with great food and drink specials!
The Subject, opening May 3rd at 10pm at The Magnet Theater!