Opening Night Preview: The Bat
Improv Wednesday April 4, 2012, 4:46pm - by WillyAppelman
---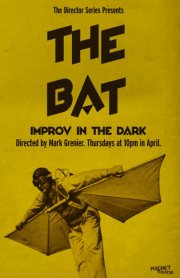 "The Bat" is the third installment of The Director Series, wherein a Director selects an all star cast and presents a month-long showcase of a specific form. This month Mark Grenier is directing "The Bat"!  Here is an interview we did with Grenier about the show.
Manget Blog:  What makes The Bat different from any other forms?
Mark Grenier: The Bat takes place entirely in the dark.  Other improv forms take place with the lights on, unless the theater fails to pay its electricity bill and the power goes out, in which case the show then becomes a Bat, whether you like it or not.  If the lights go out, you're doing a Bat.
MB: Why did you choose The Bat?
MG: I chose The Bat because it's a unique challenge for performers, and it creates a unique experience for the audience.  We take for granted being seen when we improvise and being able to see when we watch a show.  If you take sight away, everything has to be created with the voice and everything normally seen has to be imagined. It's like listening to an old radio show, which no one at Magnet Theater has probably ever done.  Bring your grandparents to the show, they'll love it.
MB: What is the future of 'improv in the dark'?
MG: The future of 'improv in the dark' is first this run of shows on Thursday nights at 10pm at The Magnet Theater (part of Thursday Night Out, only $7 for the whole night!
www.magnettheater.com
), and then beyond that I foresee the eventual elimination of sound from improv, altogether.  I hope to direct another show soon that, in addition to being in the dark, doesn't use sound, doesn't have performers or an audience and doesn't occur in either space or time.  I think that would be the ultimate improv show.
Featuring: Paul Barker, Bianca Casusol, Christina Dabney, Corey Grimes, Jeff Koleba, Kai Martin, Chris Simpson, and Lauren Smith.
Join us for the OPENING NIGHT of The Bat this Thursday at 10pm, with the after party at Mustang Sally's right after the show!