Scene Painting: The Bodysuit
Improv Monday February 6, 2012, 6:11pm - by woodyfu
---
One thing I love seeing in scenes is when players create elaborate visual set-ups that the audience has to imagine. Sometimes it's environmental -- I remember a great Brick gag where the scene took place in "Office Narnia," a private hide-away space that included weightlifting gear, endless bootleg cigarettes ("Camle" brand) and a cum bucket. OR! There was another time in the Program when the players assembled to create a giant, walking Statue of Liberty composed of dead bodies.
Other times it's generated by the characters themselves -- there was a great Dunk bit where the fumes from Taylor's "stinky leg" was so overpowering that it physicalized and could knock people out. And sometimes it is as simple as an article of clothing on a character. Anytime a character is revealed as wearing overalls, a Buckingham Palace-guard-hat, or a Batman outfit, I love watching players take these cues and physicalize them or working them into the scene. What I'm saying is that I like to use my imagination! People!
I saw a Horses show recently and Fed's character was obsessed with the Bodies exhibit and over the course of the show got his own body suit and crashed a dinner party with it on.
I got to use my imagination. I liked it!
I drew a picture of what I imagined it looked like: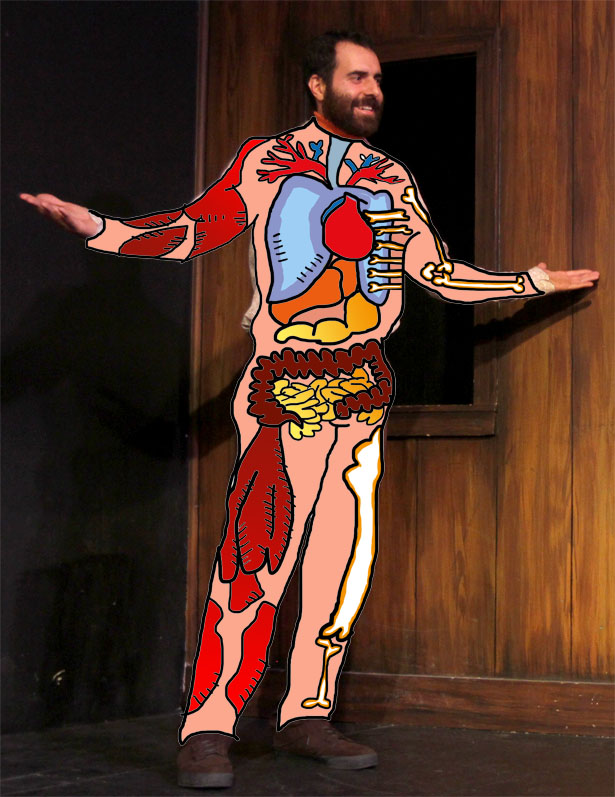 Fed's bodysuit
Scene painting!
Get it? You get it. I will hopefully be doing more of these as time goes on. Oh, if you want to see pictures from that show, you can do so here.
PS - Thanks to gross gross Slim Goodbody for the reference.
-- Woody Fu
Tags:
Batman
,
Bodies Exhibit
,
brick
,
dunk
,
Fed
,
Horses
,
Office Narnia
,
Scene Painting
,
Slim Goodbody
,
Taylor White
,
the program
,
woody fu