Stephen Colbert: An Appreciation
Appreciation, Improv Wednesday February 1, 2012, 9:17am - by WillQuinn
---
For my money, Stephen Colbert is the funniest man alive. He's probably also the most interesting. I mean, come on! He's a Sunday School teacher who hosts a subversive late night TV show and who once, at a taping I saw, answered a pre-show question of, "Are you f***ing Matt Damon?" with, "Why? Doe his d*** taste like me?"
[caption id="attachment_1458" align="aligncenter" width="300" caption="Carell, Dinello, Colbert & Razowsky in 1993 PHOTO: The Second City Chicago"]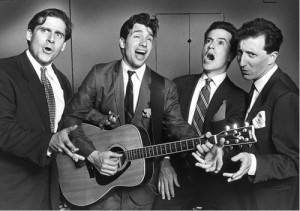 [/caption]
It's been amazing watching Stephen Colbert (the character) break through the shackles of his half hour show and begin interacting with the world in bigger and funnier ways, specifically through his second presidential run in South Carolina and his new Super PAC ads.
A lot of people have talked about how important Colbert's improv skills are to making all of this work – how he's basically playing out an improv scene with real people, which he wouldn't be able to pull off without his prodigious skills at making things up or his seemingly effortless ability to speak through the hall of funhouse mirrors that is his character.
But what people haven't talked about is how important Colbert's abilities as a scene partner are to his success. I mean, the whole thing started with voters in South Carolina who chose Colbert over Hunstman in an early poll completely on their own. Colbert said yes, definitely, but he did so in a way that built on what those voters thought was funny; in a way that validated and encouraged those voters; and in a way that said to those voters, "You made the exact right move."
I think that that's been a large part of the show's appeal over the years. Just take a look at Stephen Colbert's Green Screen Challenge, the various bridges and mascots he's campaigned to have named after him and the countless things people have done for Stephen without him even asking. Colbert and his show actively cheer and congratulate their audience's creativity and ask them to join in on the fun, no matter who or where they are.
And isn't that what we look for in a great scene partner?