Opening Night: Choral Rage
Musical Improv, Opening Night Thursday January 19, 2012, 9:07am - by woodyfu
---
Musical improv lovers, where were you January 7th? If you were anywhere but the Magnet then kick yourself in the ears and jump into an elevator shaft. If you were at the Magnet seeing the opening night of Choral Rage's new weekend run, then massage your ears lovingly and take a leisurely elevator ride wherever you please.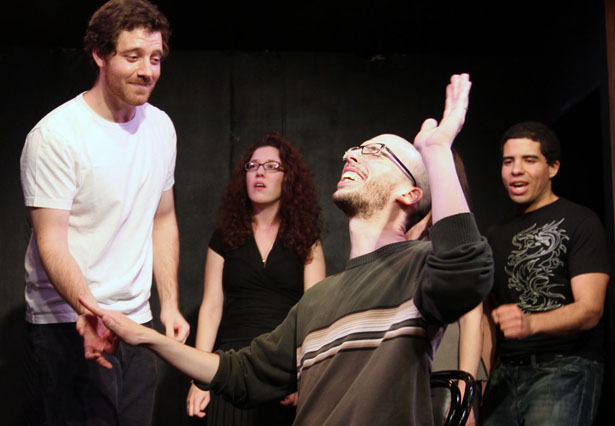 Choral Rage, one of the Magnet's veteran musical improv teams, returned to the main stage to perform a musical mono scene (sort of. Does it count if they go to an alternate version of the same location?). In their opening number we were introduced one by one to the characters, then launched into a set that included a disintegrating, loveless 30-year marriage; a four-person affair; a father/son rivalry with opposing kitchens in the same diner; a cross-country-traveling pair of lovers; and a cigarette machine that opened a portal to parallel reality diner.
The cast (Angela DeManti, Henry Kaiser, Justin Moran, Ryan Nelson, Robin Rothman, Jon Roufaeal and Jen Sanders) collectively has over 500 years of improv experience. The scenework was slow-building and patient (no doubt thanks to the direction of Louis Kornfeld) and the musical numbers were at turns jaunty, uplifting, and bittersweet (thanks to the musical accompaniment provided by Adam Podd and Steve Whyte, who collectively have 700 years of music performing experience).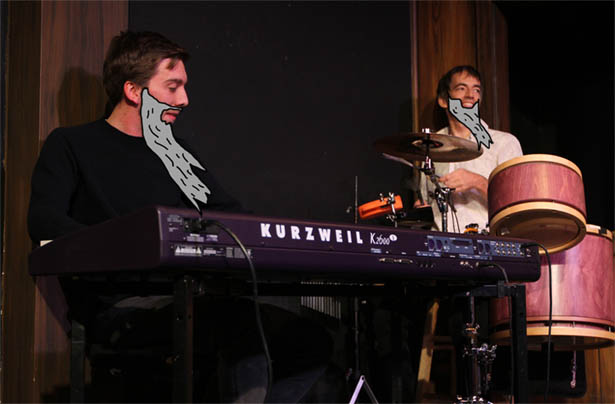 Adam Podd on the keys, Steve Whyte on the drums.
Choral Rage's run continues through February, Saturdays at 9pm. Do yourself a favor and see this long-running ensemble. You may find yourself humming their closing number as you exit the theater, skipping your way to Mustang Sally's.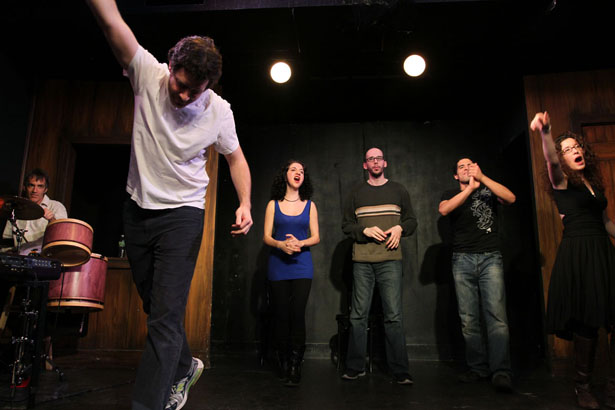 Kapow!
More pictures from the night here.
Reservations for the next Choral Rage show here.
--Woody Fu